MiR introduces two new material handling AMRs
Engineering360 News Desk | August 17, 2021
Mobile Industrial Robots (MiR), an autonomous mobile robots (AMRs) manufacturer, has launched robots for transporting pallets and other heavy items around manufacturing facilities, warehouses and logistics centers. The MiR600 and MiR1350 robots, which can lift up to 1322 lb and 2976 lb, respectively, are designed to safely and efficiently perform material handling tasks in challenging industrial environments.
The industrial and protected MiR600 and MiR1350 are the market's first Ingress Protection52-rated autonomous mobile robots, which means that their components are protected and can tolerate dust and water drops.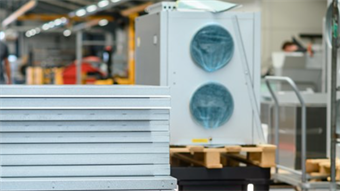 Source: MiR
The larger MiR600 and MiR1350 are ideal for autonomously transporting heavy loads of materials and goods in:
loading bays
production and assembly areas
warehouses
material delivery areas
Like MiR's other AMRs (MiR100, MiR200, MiR250, MiR500 and MiR1000), the MIR600 and MIR1350 navigate smoothly and safely among people and other transport equipment in dynamic surroundings. Sensors, 3D cameras and the latest laser scanning technology ensure 360° vision for precise and safe navigation and operations. The new AMRs are designed to comply with the industry's latest safety standards, including ISO 3691-4.
Future-proof logistics solutions must fit seamlessly into operational processes and adapt flexibly to new workflows and environments. The AMRs from MiR are highly flexible and can be deployed with different top modules for customized applications, according to the company.
While many companies ask for adaptable robot platforms, others request out-of-the-box solutions that can be used in multiple types of workflows or diverse customer sites. To ease implementation, MiR offers a number of lift top modules for the MiR600 and MiR1350. These top modules enable the AMRs to pick up and drop off pallets and carts for easy integration and scalability throughout the entire value chain.