Nord to fully automate material handling
Engineering360 News Desk | October 29, 2020
Industrial automation company Nord Modules has introduced its new Quick Mover 180, a module to enable autonomous mobile robots (AMRs) to perform multiple material handling tasks.
When coupled with Nord's automated load-transfer gates with collaborative robot (cobot) arms, the QM180 creates the a fully autonomous material handling system, with material flowing uninterrupted from production lines to the AMR to the warehouse.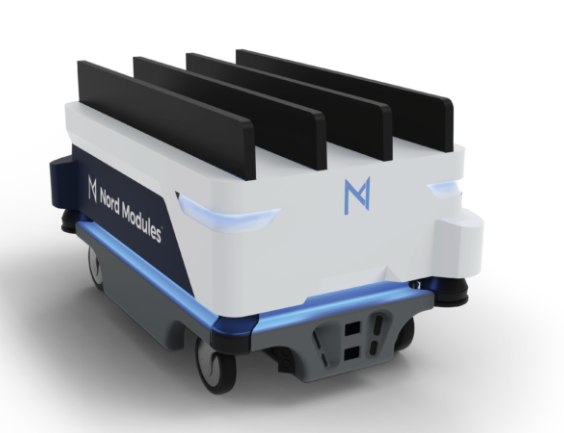 Source: Nord Modules
This autonomy — in addition to the QM180's speed, space and flexibility benefits — optimizes logistics, increases productivity, lowers overall costs and delivers return on investment, according to the company.
With a single top module, the QM180 handles countless materials — gates, half pallets, plastic boxes, carton boxes, carts and cobot solutions. Without changing top modules, manufacturers will be able to:
Transport multiple types of containers from A to B to C
Pick up goods from gates and deliver to a drop-off point
Precisely re-position goods to another automation area (a CNC machine, for instance)
"While AMRs transform material transport, increase plant efficiency and reduce employee injuries, their benefits are only maximized with top modules and high-quality gates that transfer the materials," said Kenneth B. Henriksen, chief commercial officer at Nord Modules. "With the QM180, for the first time, customers can use a single top module on their AMR to transport materials to a cobot-armed gate that can autonomously pick up and transport multiple types of materials."
The QM180 transports materials to gates installed at production lines, storage systems and conveyors. The gates can include Nord's CT155 (cobot tower), with an attached cobot arm that picks up the materials and places them where they need to go. With this "one system fits all" strategy, material handling becomes faster, easier and much less expensive because the AMR does not have to be refitted with various top modules to transport and deliver different kinds of containers, according to Nord.