The Byron Jackson H2O+ submersible pump by Flowserve for high efficiency and extended operation
Diana Aoun | July 29, 2021
Flowserve's new Byron Jackson H2O+ submersible pump range promises to meet the requirements for high efficiency and extended lifecycles of deep well submersibles. The robust new pump range features advanced hydraulics along with optimized bowls and impellers to ensure efficient operation. Flowserve provides a range of options including precision cast stainless steel impellers and bowls that deliver high-efficiency operation and extended service life for demanding applications.
Designed with a rugged construction, the Byron Jackson H2O+ is built with heavy-duty castings that are capable of withstanding sand and debris, which can degrade performance and accelerate wear on pump components. In addition, long-lasting rubber bearings and composite wear rings extend pump life while water-lubricated, carbon radial bearings reduce internal heat generation and maximize efficiency.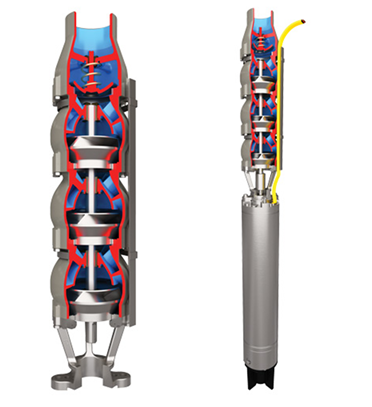 Source: Flowserve
The Byron Jackson H20+ boasts a broad hydraulic coverage that meets nearly any duty condition requirement. The water-filled, wet-wound motors are highly efficient, reliable, and environmentally friendly. The motor comes with a standard integral check valve to protect the motor thrust bearing system and the water-tight insulated windings ensure easy service, improve cooling and extend motor life. The rewindable motors feature high-quality PE2+PA (polyethylene and polyamide) winding wire insulation that enables higher-temperature operation of up to 55° C (131° F).
Along with optimized hydraulics, Flowserve also provides the option of water-filled or oil-filled submersible motors and numerous options for materials of construction, accessories, impeller design and bottom intake. Special designs and materials are also available for offshore, geothermal, mine dewatering and other demanding applications.
The Byron Jackson H20+ is NSF certified for drinking water and ideal for deep-well water applications in standard DN 150 — DN250 (6, 8, and 10 inch) sizes. It can deliver a maximum flow rate of 6,000 m3 /h (26,415 gpm) and heads up to 800 m (2,625 ft).