Pump manufacturer debuts new submersible
Engineering360 News Desk | July 28, 2020
Pump manufacturer Tsurumi has announced its new HS3.75SL submersible pump for dewatering applications.
The HS3.75SL includes a small, energy efficient motor with an output of 750 w, moving 580 l/min of water and it has a maximum head of almost 11 m. According to developers, the pump is safe to run dry and the water does not travel through the pump casing, but instead through a spiral-shaped housing base featuring a side outlet (80 mm). The pump weighs under 20 kg and is just 45 cm high, and it features a handle and a 10 m long rubber power cable for 230 V.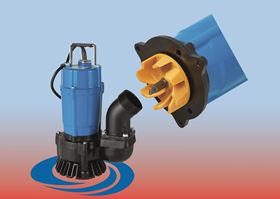 Source: Tsurumi
The pump also features Tsurumi's double internal mechanical seal, which is composed of resistant silicon carbide. Additionally, the pump's motor shaft is protected by a sleeve, featuring a sealing ring and several sealing lips, from abrasive water flow.
For more information on the HS3.75SL, visit Tsurumi's website.