Engineering for the Developing World: A Thresher for Tanzania
Robert Springer | November 05, 2015
The lives of people in poor countries will improve faster in the next 15 years than at any other time in history. And their lives will improve more than anyone else's. That optimistic outlook appears in the Melinda and Bill Gates Foundation 2015 annual letter.
The foundation awards grants to companies that are trying to make this prediction a reality. Tanzania's Global Cycle Solutions (GCS) received a grant that will enable it to continue development work on a hand-powered multi-crop thresher, which can be up to 10 times faster than traditional threshing methods.
Threshing grain by hand is a labor-intensive process, yet the high cost of mechanized threshers results in millions of people continuing to thresh by hand. Doing so is an inefficient and sometimes wasteful process as up to 5% of the grain can be wasted, yet it's the go-to method for many people who still use candles and kerosene lanterns for illumination.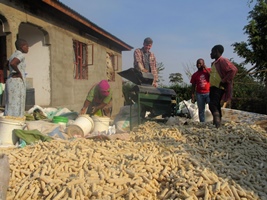 A pile of corn husks denotes a successful field test of a multi-crop thresher in Tanzania. The device threshes grain considerably faster than manual threshing.This developing-world problem needed a developed-world solution that would be viable in a country where no more than 15% of the population has reliable electricity. In a two-part series, Engineering360 looks at GCS's efforts to transform Tanzanian villagers' lives with a time-saving device.
Pedal-Power Grain Thresher
Before founding GCS, Jodie Wu was a mechanical engineering graduate with a longing to transform lives rather than work at a company where she was laboring to make a product a bit more efficient.
Frustrated with cubicle life, the Massachusetts Institute of Technology grad attended D-Lab, which she calls, "A program at MIT centered around development, distribution, dissemination, design – basically a lot of different keywords that relate to designing better technologies for the poor." It was in D-Lab that she first encountered the pedal-powered thresher.
The original version of the threshing machine involved cutting up a bicycle, welding the thresher to the frame and then building a seat around it. She carried what she thought was "a revolutionary technology" to Tanzania where she quickly realized that the design it was an "ultimate failure; that's the only way to put it," she says.
Her realization came when she saw how much Tanzanians rely on bicycles for transportation. Destroying such a valuable device to make another device made little sense. What the Tanzanians needed, she realized, was a device that could be attached to an existing bike. But even used bikes are expensive in Tanzania, and Wu wanted to be "creating, not cutting up, value." And that's where Global Cycle Solutions was born.
Spurring Thresher Completion
In 2013, the Gates Foundation awarded GCS a $100,000 grant to pursue development of "a portable, hand-powered multi-crop thresher" and also explore local manufacturing and distribution strategies. The grant allowed GCS to continue with product testing and manufacture of a pedal-powered version of the thresher. GCS sold more than 1,000 of the devices, but the company wasn't making enough money to stay afloat. The company's board told Wu that she needed to choose between R&D and sales and distribution.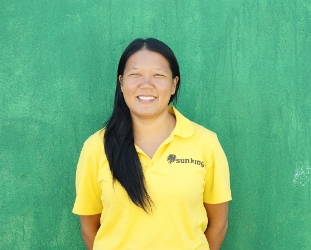 Jodie Wu is a mechanical engineering graduate with a longing to transform lives. Image source: GCS TanzaniaHer solution was to spin off the R&D arm into a separate entity and concentrate her efforts on distribution. An MIT mechanical engineering graduate, Elliot Avila, now runs the spin off.
As promising as the manually operated thresher appeared to be, customer feedback told Wu that users were (literally) tired of pedaling and wanted a motorized solution.
"The best way to put it is if we realized the mistakes and corrected from there, we could actually bring them a machine that brings more value in terms of time and in terms of a clean crop," Wu says. She says the market response was "'why are you bringing us the pedal-powered thing? We want the engine powered thing!' Everything," she says, "just started moving in that direction."
GCS began work on a prototype. However, creating a motorized sheller in Tanzania has proved challenging, says Avila.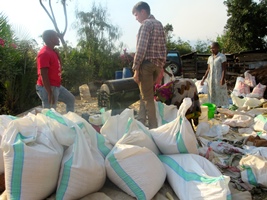 Bags of freshly threshed corn are the reward for field testing GCS's motorized multi-crop thresher in Tanzania."The timeline for any work done in Tanzania feels very stretched out – you have to learn to cope with massive power outages, tools breaking frequently and other setbacks." Avila says that he can't predict when delays will happen, but "I expect them all the time."
The delays are doubly frustrating as Avila must time his testing based around the crop calendar, and it's difficult to test the sheller if no un-shelled grain is available.
Another challenge is user research, which can be a problem due to cultural and language differences. "I never do field research alone," Avila says. Despite the challenges, on-site field testing has its advantages, as field testing can be as easy as asking a farmer, "Can I come by tomorrow and thresh your crops?"
Avila is something of a one-man band, handling R&D and testing. He receives some assistance from Twende, a local innovation center whose technicians and marketers help with fabrication and making local contacts. Avila says GCS plans to fabricate the motorized multi-crop thresher in Tanzania, so the feedback he receives from potential customers will prove "invaluable" once they start to manufacture. Despite the headaches, "Working on the ground in Tanzania is the only way I can imagine this project moving forward," he says.
Threshing as a Service
Once GCS realized that customers wanted a motorized thresher, it needed to find a way to enable customers to use a product that they might not be able to purchase outright. A portable, shared device made sense, Wu says, so it can be used among multiple communities.
With the motorized thresher, GCS needed to determine what type of device would work best and how its customers would likely use it. One possible solution was to build a compact thresher and deliver it via motorcycle to customers, who would pay for it like any other service. "You have to push yourself to have a holistic view of not just your technology but also the whole system of your technology and your user," Avila says.
Part two of this article details how GCS made the strategic move from R&D to distributing ready-made products that its customers need.