Watch: Low-cost microscope is 3D printed
S. Himmelstein | May 07, 2020
An open-source, laboratory-grade microscope designed by researchers from the U.K. and Tanzania can be 3D printed at a cost of $18. The fully automated OpenFlexure Microscope features motorized sample positioning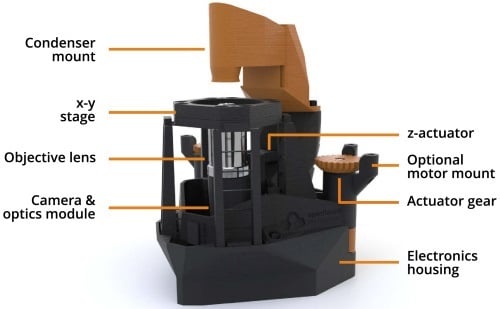 Overview of the OpenFlexure microscope design, in transmission bright-field configuration. Source: Joel T. Collins et al.and focus control, an intuitive software interface and simplified alignment procedures.
The flexure mechanism provides three-axis positioning in a compact instrument weighing about 500 g. Illumination, optics and imaging can be customized, and a range of included interchangeable optics modules enables different imaging modalities allowing different cameras and imaging lenses to be used for applications as diverse as medical diagnostics to school teaching.
An 8 MP complementary metal–oxide–semiconductor sensor (Raspberry Pi camera V2) provides digital imaging capabilities. Bright-field trans-illumination, fluorescence, polarization-contrast and other imaging modes are supported.
The design initiative was launched to enable local production of the microscope in resource-limited areas, which has been demonstrated in Kenya and Tanzania. The instrument described in Biomedical Optics Express requires one to two hours for an experienced builder to assemble, and typically twice that for a first-time build.
Researchers from University of Bath (U.K.), Ifakara Health Institute (Tanzania) and University of Cambridge, U.K., contributed to this development.