Elon Musk's Boring Company opens Vegas loop using Teslas
Peter Brown | June 11, 2021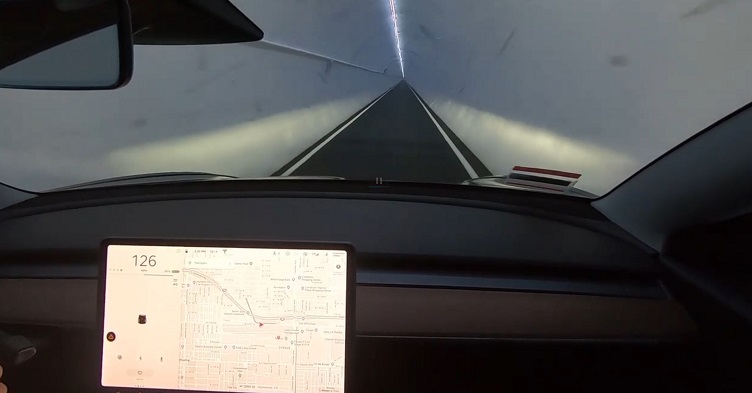 Inside a Tesla traveling along a loop track constructed by The Boring Company. Source: The Boring Company
The Boring Company, Elon Musk's infrastructure and tunnel construction company, has opened its Las Vegas loop and will soon begin transporting passengers along a 1.7 mile stretch underneath the city.
The Vegas loop will initially include only three passenger stations — the West Station, the South Station and the Las Vegas Convention Center, which acts as a middle point station. The Boring Company has plans to add passenger stations stretching to McCarran International Airport, various hotels and casinos on the strip in downtown Las Vegas, and Allegiant Stadium, home to the Las Vegas Raiders.
The Vegas loop project will allow passengers to ride in a Model 3 or Model X Tesla electric car and travel 1.7 miles traveling at speeds up to 100 mph. In the tunnels, the Tesla car travels along paved roads without traffic or any stops until a destination is reached.
Based on testing The Boring Company released earlier this year, the loop can transport more than 4,400 people hourly at a speed of about 35 mph and can handle a capacity of about 62 cars that hold up to five passengers each.
In comparison, hyperloop technology uses magnetic levitation to lift a passenger or cargo pod off the track and guide it as it moves, creating a friction-free track. Almost all the air in the tube surrounding the pod is removed to create the same environment found at 200,000 ft above sea level. The combination of the linear motor, magnetic levitation and low-pressure tubes reduces drag so that only a small amount of electricity is needed to propel the pod at speeds as high as 670 mph.
Hyperloops are billed as potentially reaching speeds of 700 mph and would connect multiple cities with metro spots, but with zero direct emissions. The pod floats along a track using magnetic levitation and glides at airline speeds over long distances.
Obviously, the differences are vast, and it seems like The Boring Company is vying for a more localized approached to what has been billed as the fifth mode of transportation, carrying passengers shorter distances faster than traditional vehicles on city streets. Hyperloop is more of a long-term travel option to compete against traditional railways or aircraft.