The Boring Company's East Coast Loop project moves closer to reality
Peter Brown | April 22, 2019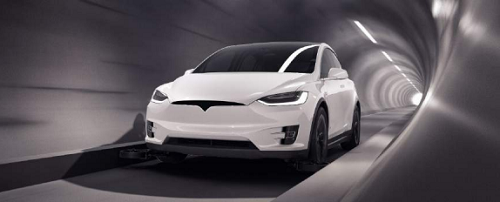 An artist rendering of an electric vehicle in the proposed loop tunnel. Source: USDOT
The Boring Company, Elon Musk's drilling and high-tech transportation company, has submitted details for a proposed transportation loop between Washington D.C. and Baltimore.
The U.S. Department of Transportation (DOT) unveiled the draft environmental assessment that The Boring Company submitted as part of the first step toward the joint federal-state project. It would bring a new type of transportation system to the area, a so-called fifth mode of transportation.
The loop system differs from a hyperloop system in that it uses an autonomous electric vehicle (EV) instead of a pod system to transport passengers.The self-driving EVs would be modified, battery-powered, passenger vehicles equipped with guidance systems. The travel range would be consistent with traditional battery EVs, with future potential for high-occupancy models.
According to The Boring Company's proposal, the initial stage of the project would consist of construction and initial operation of a transportation system carrying passengers between Washington D.C. and Baltimore. The components of the project include loop stations in both cities, up to 70 ventilation shafts, four tunnel boring machine launch sites, maintenance terminals and the autonomous EVs.
Despite how many hubs or arteries are added, all trips would remain point-to-point, meaning the EVs would travel directly to their final destination without stopping at an intermediate station. Each rider would hail an EV by entering the destination into the loop system prior to disembarking. The rider would then be transported directly to the destination through an express main artery tunnel with local service provided via spur tunnels.
The environmental assessment indicates that future expansion would be determined based on user demand and ridership. Future expansion is anticipated, but no future loop station locations, tunnel arteries or service communities have been decided. Some of these arteries could be as small as a few parking spaces to match community needs, or could be large stations built near public transit hubs to connect with existing infrastructure.
The East Coast loop system is similar to the loop system being developed in Chicago that would consist of twin 18-mile-long underground tunnels, with EVs transporting passengers at speeds over 100 mph.
There is a stark difference between loops and hyperloops. While a hyperloop could travel as fast as 600 mph, the loop system would have a maximum speed of 150 mph. However, both transportation systems are underground in a tunnel system away from all other traffic.
Hyperloop systems continue to move along, with Hyperloop Transportation Technologies (HTT) recently showing off a 320 m test track in Toulouse, France, that will test the Quinero One pod later this year. Unlike the loop projects from The Boring Company and SpaceX, hyperloops from Virgin Hyperloop One and HTT will be above-ground, similar to other mass transit systems.