The Boring Company to build loop system in Las Vegas
Peter Brown | May 30, 2019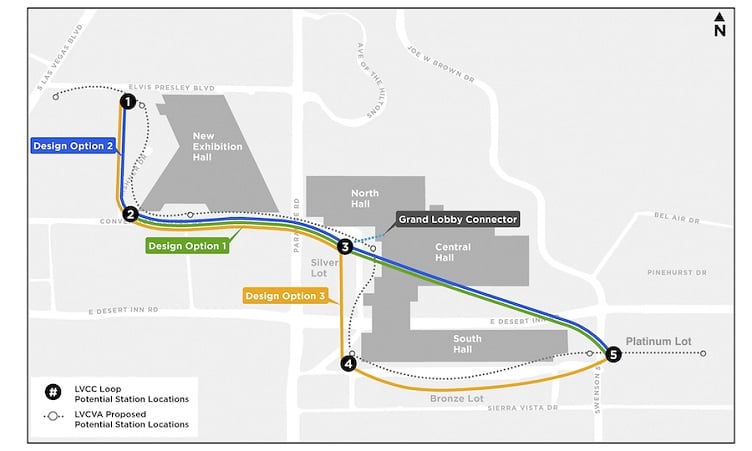 The proposed loop system for the Las Vegas Convention Center route. Source: The Boring Company
The Boring Company has received a contract to design and construct a loop system for the Las Vegas Convention Center (LVCC).
The system would provide fast transportation for convention and trade show attendees across the LVCC campus with five potential station locations placed in close proximity to key LVCC destinations and transportation options.
The loop is a high-speed underground public transportation system where passengers travel via autonomous electric vehicles at up to 155 mph. These EVs would be Tesla Model X and Model 3 vehicles with a modified chassis to transport up to 15 passengers with both sitting and standing room.
The Boring Company said using tunnels allows the vehicles to be silent and invisible until emerging at the surface with no surface noise or vibration. Tunnels also provide straighter alignments and are not affected by traffic or weather.
While the initial contract is just for the LVCC area, The Boring Company said it could expand to other extensions including to McCarran International Airport, hotels on the Las Vegas Strip, downtown Las Vegas, Las Vegas Stadium and eventually Los Angeles.
This future expansion would use similar EVs and infrastructure, providing an express connection to the LVCC loop system also operating at speeds of up to 155 mph, the company said.
Previously, The Boring Company built a test site at the SpaceX headquarters in Hawthorne, California, and is currently working on two projects in Chicago and on the East Coast of the U.S. using a similar EV and tunnel model.
Until recently, The Boring Company was expected to build tunnels and systems that work with a hyperloop system — a series of pods that run on rails and travel at extremely fast speeds under or above ground, transporting both cargo and passengers. However, Elon Musk, CEO of The Boring Company, SpaceX and Tesla Motors, recently said on Twitter the company was abandoning the idea of pods in favor of conventional vehicles.