Video: Save space and boost operational reliability with these screw compressors
Engineering360 News Desk | June 10, 2021
Renner screw compressors with asymmetric profile are engineered to deliver high efficiency, long service life and simple, economical maintenance.
The new RSDKM(F)-PRO multiple unit is individually configurable – any two compressors in the power range from 3.0 kW to 11.0 kW from the Renner standard portfolio can be combined with various options as a multiple unit as required. The series is also particularly space-saving thanks to a tandem construction, and a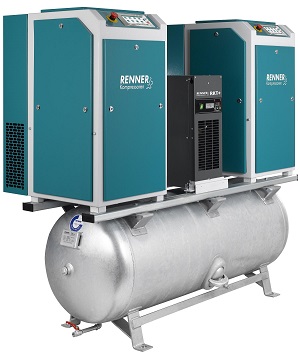 Source: Rennersliding refrigeration dryer simplifies maintenance.
The series also has increased operational reliability as the second compressor secures a partial/basic supply in the event of an error or maintenance of a compressor. As an option, the compressors can be preprogrammed with a base load change over control using the individually configurable premium control RENNERtronic Plus Touch. The RENNERlogic and RENNERtronic touch controls are alternatively available for simple applications.
The RSDKM(F)-PRO saves costs – in this case installation costs. Both compressors are connected to the air receiver and the refrigeration dryer by the manufacturer, so there is only one connection to the compressed air network. In addition, the system can be moved quickly and easily with a forklift and set up in the smallest of spaces.