Video: Speeding medical diagnostics with 3D-printed devices
S. Himmelstein | May 26, 2021
A new 3D-printing technique expands the possibilities of lateral flow testing. These advanced diagnostic assays, which include the classic pregnancy test and COVID-19 self-tests, can now be produced quickly and at low cost.
Researchers from Katholieke Universiteit Leuven, Belgium, used a 3D printer to fabricate a 3D version of a lateral flow microfluidic test. The process uses a block of porous polymer in which inks with specific properties are printed at precise locations, resulting in the formation of a network of channels and small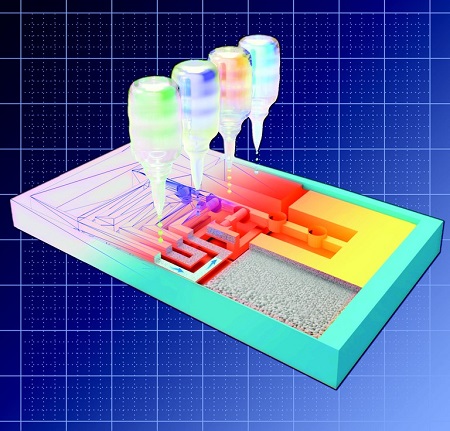 Advanced diagnostic assays can be produced quickly and at low cost. Source: Katholieke Universiteit Leuvenlocks that block or allow flow through where and when it is needed, without the need for moving parts. The sample is automatically guided through the various test steps.
The technique was trialed with an enzyme-linked immunosorbent assay to detect immunoglobulin E, a marker measured to diagnose allergies. While this assay conventionally requires several steps with different rinses and a change in acidity, the researchers deployed the new method to perform the full analysis on a printed test kit the size of a thick bank card. The fabrication system is expected to provide cheaper, faster diagnostics in resource-limited areas.
A 3D printer is now being tailored for this diagnostic device printing technology, which is described in Advanced Materials.