Green light for first major offshore wind project in US
S. Himmelstein | May 13, 2021
The final major step in the federal review process for the first commercial scale offshore wind farm in the U.S. has been taken. Vineyard Wind, a joint venture between Avangrid Renewables and Copenhagen Infrastructure Partners, has received the Record of Decision (ROD) from the U.S. Department of the Interior Bureau of Ocean Energy Management.
The ROD grants Vineyard Wind final federal approval to install 84 or fewer turbines off Massachusetts as part of an 800 MW offshore wind energy facility. The project design includes the world's most powerful wind turbine, the GE Haliade-X, with a 13 MW capacity, and is expected to create 3,600 area jobs and will power up to 400,000 homes. Turbines will be installed in an east-west orientation, and all will have a minimum spacing of one nautical mile between them in the north-south and east-west directions.
The Vineyard Wind energy project will contribute to the Biden-Harris administration's goal of generating 30 GW of energy from offshore wind by 2030.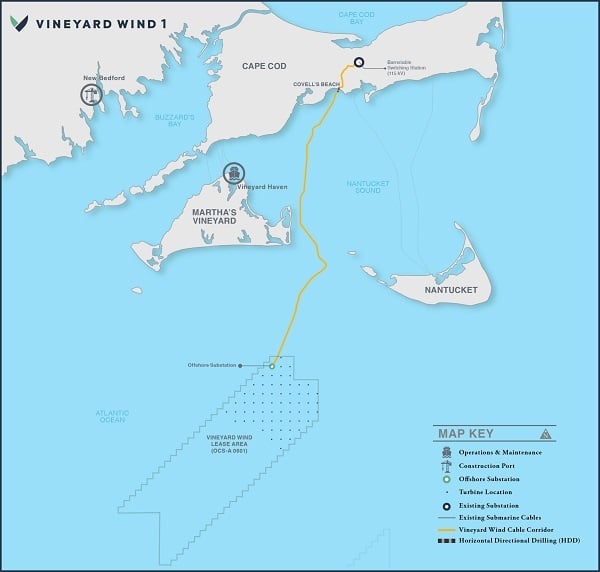 Site of the 800 MW wind energy project. Source: Vineyard Wind