GE to Invest $400 million in 12 MW Offshore Wind Turbine
David Wagman | March 02, 2018
GE Renewable Energy says it plans to $400 million over the next three to five years to develop a 12 megawatt offshore wind turbine that it says could produce 45 percent more energy than competing offshore turbines.
The Haliade-X turbine would have a tower height of 260 meters and a 220-meter rotor. The Eiffel Tower in Paris stands 324 meters tall, including its flagpole.
Designed and manufactured by LM Wind Power, the 107-meter-long blades would be among the longest offshore blades to date. By comparison, the Airbus A-380 superjumbo jet has a wingspan of just under 80 meters. One Haliade-X 12 MW turbine could generate up to 67 GWh annually, according to GE.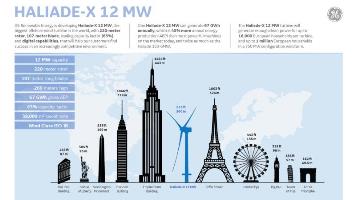 (Click to enlarge) Relative scale of the 12 MW turbine compared with landmark structures. Credit: GE RenewablesWith an expected 63 percent gross capacity factor, GE says that its turbine will be five to seven points above the current industry benchmark.
Uncertain U.S. Market
Offshore wind in the U.S. has struggled to remain afloat in recent years. In December 2017, Cape Wind Associates told the Federal Bureau of Ocean Energy Management that it had ceased operations and was surrendering its federal lease for 46 square miles (119 square kilometers) in Nantucket Sound. The project proposed using Siemens 3.6 megawatt wind turbines with a total capacity of 468 megawatts.
To date, the largest offshore wind farm in U.S. waters is the 30 MW Block Island Wind Farm, three miles off the coast of Block Island, Rhode Island. It entered service in late 2016. GE Renewable Energy supplied the project's five 6 MW Haliade turbines and put the wind farm through its paces during the four-month testing period.
In early January 2018, business unit of Spain-based Iberdrola submitted a plan to build an 800 MW wind farm 15 miles south of Martha's Vineyard, in the waters off of Massachusetts. By filing for construction permits, Vineyard Wind, the Iberdrola unit, says it is on track to complete the permitting process in time to begin construction in 2019.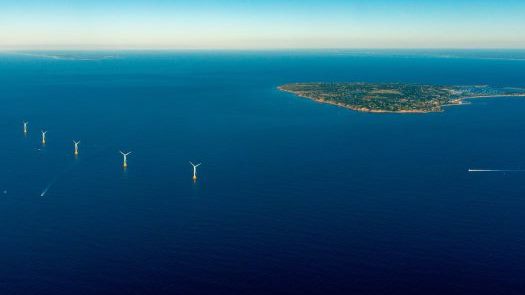 The 30 MW installation off of Block Island, RI, is among the first in U.S. waters. Credit: Deepwater WindIn European waters, meanwhile, a record 3,148 MW of net additional installed capacity was added in 2017. According to Wind Europe, this corresponds to 560 new offshore wind turbines across 17 wind farms. There were 14 projects completed and connected to the grid, including the first floating offshore wind farm. Work is under way on a further 11 projects in Germany and the U.K.
The U.S. Energy Department says that the global trend of increasing size and scale in offshore wind turbines has manufacturers building larger turbines (up to 9 MW and rotor diameters of 538 feet) on foundation designs in water depths of more than 200 feet.
DOE says that this upscaling trend is driven by the need to minimize costs and maximize efficiency. Larger turbines can capture more energy, more efficiently per installation. Economies of scale also result in fewer technicians needed to service fewer turbines.
Internal Support
GE Renewable Energy is drawing on support from its onshore wind team to develop the turbine. It also is working with blade experts at LM Wind Power, GE Aviation engineers for reviews of component and systems design, its Global Research Center for control systems and component validation and GE Digital for supporting digital modelling, analytics and app development.
GE says it aims to supply its first nacelle for demonstration in 2019 and ship the first units in 2021.