Iberdrola Unit Eyes 800 MW of Wind in Rough Waters
David Wagman | January 02, 2018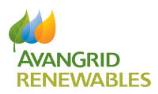 A business unit of Spain-based Iberdrola submitted a plan to build an 800 megawatt (MW) wind farm 15 miles south of Martha's Vineyard in the waters off of Massachusetts.
By filing for construction permits, Vineyard Wind, the Iberdrola unit, says it is on track to complete the permitting process in time to begin construction in 2019.
Vineyard Wind says it submitted applications with the U.S. Department of the Interior's Bureau of Ocean Energy Management and the Massachusetts Department of Public Utilities' Energy Facilities Siting Board.
Following passage of An Act to Promote Energy Diversity in 2016, Massachusetts required the state's electric distribution companies to procure 1,600 MW of offshore wind energy within the next decade.
In early December, Cape Wind Associates told the Federal Bureau of Ocean Energy Management that it had ceased operations and was handing back its federal lease for 46-square miles (119-square kilometers) in Nantucket Sound, also off of Massachusetts.
Cape Wind proposed the nation's first offshore wind farm with a 130 turbine project 17 years ago, but was dealt setbacks, including the end of agreements with utility companies in 2015.
The project proposed using Siemens 3.6 MW wind turbines with a total capacity of 468 MW.
Avangrid Renewables is a co-owner of the Vineyard Wind project. Avangrid Renewables acquired a 50 percent ownership interest in Vineyard Wind, which is part of the Copenhagen Infrastructure Partners (CIP) portfolio.
Iberdrola holds offshore wind projects under development or construction in England, Germany and France. Avangrid Renewables recently won its first offshore wind lease auction in the U.S. off the coast of North Carolina. Copenhagen Infrastructure Partners is providing investment and management for projects under construction in Germany and Scotland.
Three companies to date have acquired lease rights to build projects off the Massachusetts' coast, including Vineyard Wind.