Watch a FRESH approach to 3D bioprinting
S. Himmelstein | March 24, 2021
The synthesis of functional adult-sized tissues and organs by 3D printing has been challenged by the problem of bioink distortion, which undermines the structure and fidelity of the material. As a result, most 3D-printed tissues fabricated to date have not matched the size of tissues or organs they are intended to replace. A solution engineered at Carnegie Mellon University prints biomedical materials within a yield-stress support bath that holds the bioinks in place until they are cured.
In the Freeform Reversible Embedding of Suspended Hydrogels (FRESH) technique, a support bath enables the printing of cells and bioinks that maintain their position as they cure, while still allowing for the movement of the extrusion needle. The support bath also provides an environment during the printing process that maintains high cell viability as a needle injects bioink into soft hydrogel, which supports the object as it forms. Once finished, a simple application of heat causes the hydrogel to melt away, leaving only the 3D bioprinted object.
FRESH enables the printing of soft materials with the broadest range of gelation mechanisms of any current bioprinting approach by leveraging the bioink-bath interface during printing. The technology can also be integrated with an array of bioprinting systems capable of motorized or pneumatic syringe-based extrusion and precise 3D motion control within the support bath.
The process described in APL Bioengineering has been used to produce the first full-size 3D bioprinted human heart model.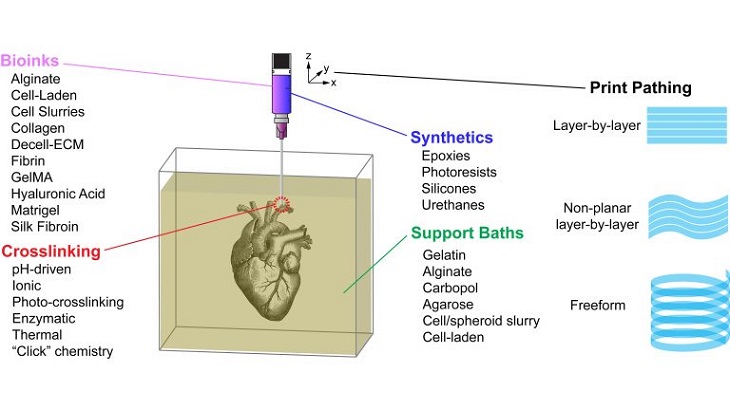 Schematic of the customizable FRESH bioprinting platform. Source: Adam Feinberg and Andrew Hudson, Carnegie Mellon University