Trimble Technology Lab established at Florida International University
Amy J. Born | April 08, 2021
Technology company Trimble has partnered with Florida International University (FIU) to establish the Technology Lab as part of FIU's Moss School of Construction, Infrastructure and Sustainability. The concept for the state-of-the-art program grew out of a commitment to drive innovation through a highly-trained workforce.
The Trimble Technology Lab expands training and research in the fields of engineering, construction and the sustainable built environment, with an emphasis on leadership and excellence. The Lab, housed in the university's College of Engineering and Computing, offers students hands-on experience with many Trimble solutions, integrating innovative technology into the school's curricula. This will expand the university's expertise in project management, estimating, architectural modeling and design, structural analysis and design, mechanical electrical plumbing (MEP) design, mixed reality and office-to-field solutions. Future graduates will be empowered to transform the ways buildings and living environments are designed and built.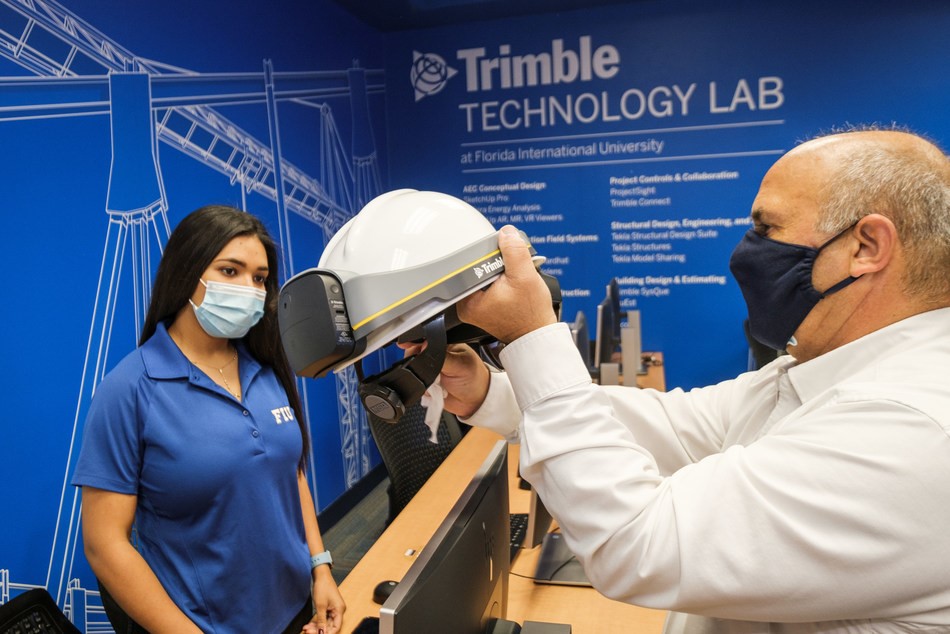 Trimble and FIU establish Trimble Technology Lab at the Moss School of Construction, Infrastructure and Sustainability. Source: Trimble
According to Allyson McDuffie, director of education and outreach at Trimble, the company supports the next generation of construction professionals through access to Trimble's construction industry solutions. This includes the latest computer hardware and software for engineering and construction: Trimble XR10 HoloLens with hardhat, Trimble SiteVision AR system, robotic total stations and field tablets, RealWorks scanning software, Trimble Business Center, Tekla Structures, Tekla Model Sharing, Tekla Structural Design Suite, Trimble Connect, ProjectSight, TruEst, WinEst, SysQue, Vico Office Suite and SketchUp Pro 3D modeling software.
Professionals using Trimble's Connected Construction portfolio along the project lifecycle can accelerate project processes and improve productivity, quality, transparency, safety and sustainability, while reducing waste. Students in the Trimble Technology Lab can create 3D building models for a better understanding of how modifying sequences for materials and equipment impact cost and project timelines.
"These assets will provide our students with the training needed to best prepare them to become future industry leaders," said John Volakis, dean of the FIU College of Engineering and Computing.
The Moss Department of Construction Management is ranked second in Florida, ninth in the South and 34th in the U.S. among public universities and offers both bachelor's and master's degrees in construction management.
"At FIU, we are also committed to construction safety, and Trimble offers us a combination of augmented reality with site monitoring technologies that help our students better minimize and understand hazard," said Jose Faria, endowed chair of FIU's Moss Department of Construction Management.