Video: Massless battery serves as structural component
S. Himmelstein | March 24, 2021
Researchers in Sweden have developed a massless battery that performs 10 times better than all previous versions and functions simultaneously as a power source and structural component for vehicular propulsion.
The structural battery described in Advanced Energy & Sustainability Research features an energy density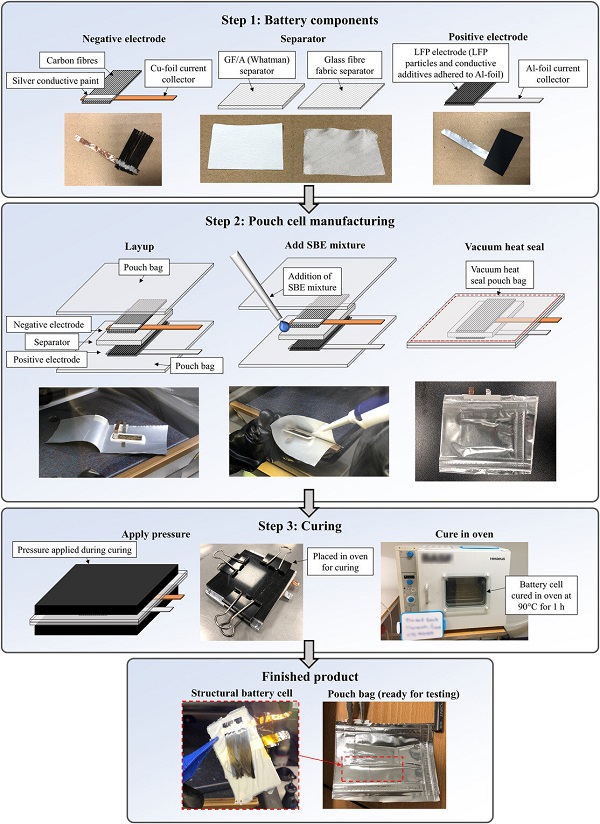 Structural battery composite fabrication, showing battery component manufacture, pouch-cell manufacture and curing of the structural battery electrolyte. Source: Leif E. Asp et al.of 24 Wh/kg, an elastic modulus of 25 GPa, and tensile strength exceeding 300 MPa. Carbon fiber serves simultaneously as a negative electrode, conductor and load-bearing material; a lithium iron phosphate-coated aluminum foil is included as the positive electrode. Both the carbon fiber and the aluminum foil contribute to the mechanical properties of the structural battery.
The two electrode materials are kept separated by a fiberglass fabric in a structural electrolyte matrix. The task of the electrolyte is to transport the lithium ions between the two electrodes of the battery, but also to transfer mechanical loads between carbon fibers and other parts.
The massless battery can contribute to reductions in electric vehicle weight, which translates into less energy required for propulsion. Researchers from Chalmers University of Technology and KTH Royal Institute of Technology next plan to focus on replacing aluminum in the positive electrode with carbon fiber to further boost energy and mechanical performance, while the fiberglass fabric will be replaced with a thinner version to promote faster charging.