3D-printed ear demonstrates the viability of a new type of implant
Amy J. Born | January 16, 2019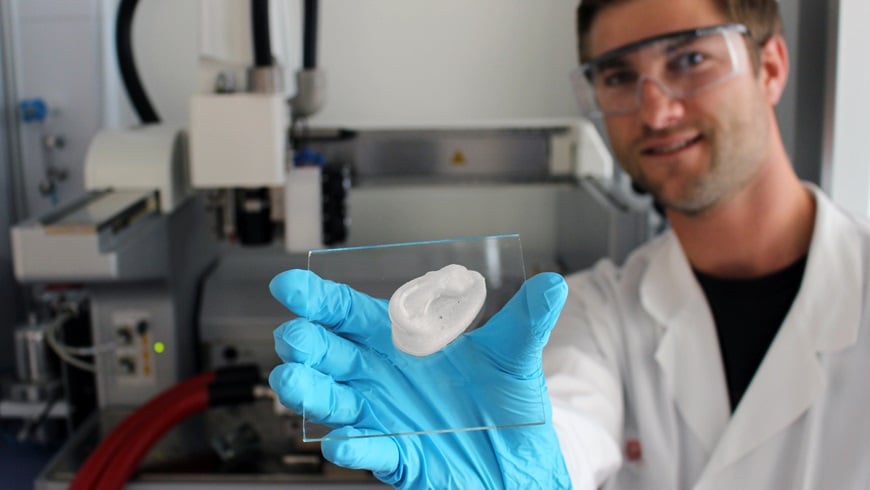 A 3D-printed ear: Empa researcher Michael Hausmann uses nanocellulose as the basis for novel implants. Source: EmpaEmpa researcher Michael Hausmann has successfully 3D-printed an ear made of cellulose nanocrystals and a biopolymer in an effort to determine the viability for humans of biomedical implants made from these materials.
According to the research, cellulose is ideal for creating this type of scaffolding because when linked with the biopolymer the resulting structure remains stable despite having soft mechanical properties. Cellulose is also an abundant natural polymer and can be tailored for a specific end result by incorporating human cells — the next step in this research.
"The aim of this implant is that once incorporated in the body, the cells will start to proliferate and grow, while building up the original cartilage within the [printed] polymer scaffold. During that time, the original scaffold is expected to degrade. While the polymer in the scaffold degrades, the cartilage is replacing it so that at the end the pure cartilage will be present," Hausmann explained. Humans do not have the necessary cellulase enzymes to break down the cellulose so it remains in the body, but because it is biocompatible it won't cause any harm or unwanted side effects, Hausmann added.
3D printing is effective for producing patient-specific biomedical implants "as it offers freedom in geometry and complexity," Hausmann stated.
Children born with an auricular malformation, such as microtia (an underdeveloped outer ear), could benefit from an ear-shaped nanocellulose-based composite implant for improved hearing and appearance. However, similar implants can be developed for other conditions, such as the replacement of articular cartilage in joints damaged by chronic arthritis.
Empa, the Swiss Federal Laboratories for Materials Science and Technology, is an interdisciplinary research institute that conducts materials and technology research. The research is available at ACS Nano.