Xylem adds to its portfolio with the e-XC single stage, double suction centrifugal pump
Diana Aoun | November 10, 2020
The e-XC single stage, double suction split case pump offers higher efficiency over a broader range of hydraulic conditions. The new e-XC replaces Xylem's previous models in the AC series 8100, 8300 and 9100 pump range.
With more than 140 models available, the e-XC offers customization options to suit customer's precise requirements for the most demanding operational conditions. Xylem has improved the design of its centrifugal pump offering with the e-XC and the new (patented) mechanical seal options mean leakage issues and seal wear will become a thing of the past.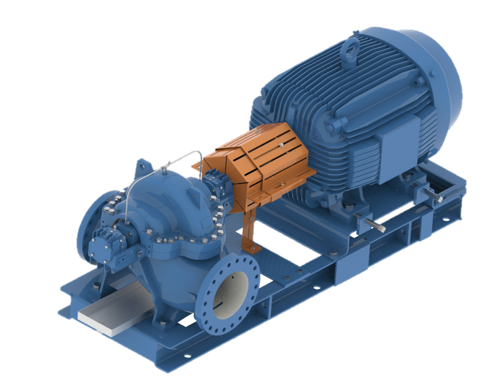 Source: Xylem
The e-XC can handle an impressive flow rate of up to 3,600 L/s (57,061 gpm) with a maximum head of 266 m (873 ft). All standard models come with a corrosion-resistant stainless steel 304 impeller, a carbon/silicon carbide seal with an EPDM elastomer for increased durability, impeller wear rings with any impeller combination and integrated measurement ports for optional temperature and vibration sensors to help predict maintenance needs. Xylem claims that its standard models will rival upgrade options available from other vendors.
Upgrade options include 316 stainless steel casing as well as duplex and super duplex stainless steel casing for more aggressive applications. Optional sensor interfaces can be connected to plant control systems for enhanced monitoring and diagnostics. Xylem also offers the Aquavar IPC variable speed controller, which is optimized for e-XC pumps. The Aquavar gives customers added capabilities such as multi-pump configuration and remote monitoring. This controller is a timely option with the ever-growing demands of the industry to manage pump energy consumption and lower life cycle costs.
The e-XC is suitable for a wide range of applications including water transfer and circulation, pressure boosting, process cooling and heating, industrial fluid transfer and transport, and much more. It is suitable for pumping a range of fluids including groundwater, potable water, process water, gray/used water, seawater, brackish water, industrial fluids and solvents/oils.