Grundfos PACO End Suction Pumps for maximum reliability and efficiency
Diana Aoun | February 15, 2021
The PACO line of end suction, single stage pumps by Grundfos is now available in an expanded selection of 32 sizes. The LF, LC and LCV double volute models offer distinct advantages over single volute designs. The unique mechanism ensures that hydraulic radial loads are equal and opposed and thus nullified. This reduces internal recirculation and turbulence, which increases efficiency, lowers life cycle costs and extends seal and bearing life.
The PACO line of end suction pumps come in three models: the LF (frame mounted), the LC (close coupled) and the LCV (vertically mounted close coupled).
High efficiencies reduce operating costs as well as maintenance requirements and downtime. The design also provides a wider band of best operating efficiency, even during times of "off-design" operation, something most conventional end suction pumps struggle to achieve.
The LF frame mounted end suction pump features a back pull-out design for ease of maintenance without disturbance to piping. The large seal chamber allows for various seal configurations and customizations based on the specific application. The unique Francis Vane impeller design produces a high efficiency with low NPSH requirements. The impellers are also statically and dynamically balanced to ISO 1940-G3 for reduced noise and vibration.
The LC and LCV close coupled end suction pumps come with similar features to the LF in terms of unique impeller design, high efficiencies and minimum maintenance requirements. The close coupled design provides a compact construction for space saving, with the vertically mounted LCV model providing further space saving advantages.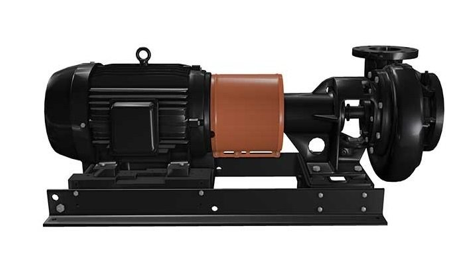 Source: Grundfos
Standard key features of the series include:
Sealed for life bearings that reduce maintenance requirements
Replaceable lead-free bronze shaft sleeve
Lead-free bronze construction
Suction and discharge pressure gauge taps
Full-flanged connections on discharges 2-1/2 in and larger
Rigid designed steel base with machined pump and motor mounting surfaces
Optional features include a range of materials of construction depending on application, alloy shafts and sleeves, seal materials and configurations, and motor enclosures (TEFC or explosion proof).
The pumps can deliver a maximum flow rate of 378 L/s (6000 US gpm), a head of 120 m (400 ft) and can handle fluid temperatures up to 120° C (250° F). Discharge sizes range from DN 25 to DN 250 (1 in to 10 in). Applications include industrial, water, wastewater, agriculture, HVAC, pressure boosting and more.