Drive range anxiety away with this fast-charging battery
S. Himmelstein | February 07, 2021
A new lithium iron phosphate battery design offers scope for relieving the range anxiety experienced by many electric vehicle (EV) operators. The device developed at Pennsylvania State University delivers a range of 250 miles and the ability to charge in 10 minutes.
The battery self-heats quickly during charge and discharge and then cools rapidly when not in use. One end of a thin nickel foil is attached to the negative terminal and the other extends outside the cell to create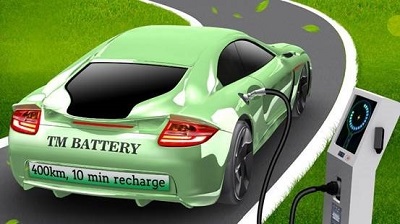 The thermally modulated battery is designed to reduce range anxiety for electric vehicle operators. Source: Chao-Yang Wang's lab, Pennsylvania State Universitya third terminal. Once electrons flow, it rapidly heats up the nickel foil through resistance heating and warms the inside of the battery. As the internal temperature reaches 60° C, the switch opens and the battery is ready for rapid charge or discharge.
The self-heating method supports the use of low-cost materials for the cathode and anode and a safe, low-voltage electrolyte. The cathode is thermally stable, lithium iron phosphate and the anode is composed of very large particle graphite, a safe, light and inexpensive material. The self-heating technology also prevents uneven deposition of lithium on the anode, which can cause the dendrites that often lead to lithium-ion battery failure
According to the researchers, a 40 kWh battery can generate 300 kW of power, enough to take an EV from 0 to 60 mph in around three seconds.
The battery described in Nature Energy is expected to have a service life of 2 million miles.