Sandwich battery offers powerful treat for EVs
S. Himmelstein | May 17, 2021
Electric vehicles (EVs) may soon be able to go the desired distance with a stable, lithium-metal, solid-state battery that can be charged and discharged at least 10,000 times at a high current density.
The alternative battery architecture developed at Harvard University could enable EVs to charge in as little as 10 minutes. The technology also promises to increase the lifetime of these vehicles to the 10 to 15 year service life of gasoline cars without the need for battery replacement.
The multilayer battery design mitigates the dendrite formation problem that plagues lithium-ion batteries by sandwiching different materials of varying stabilities between the anode and cathode. The penetration of lithium dendrites is prevented by controlling and containing them.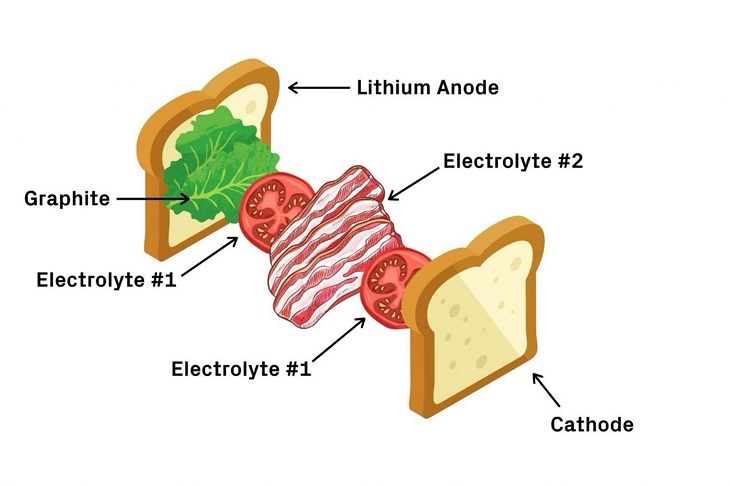 The battery structure is likened to that of a bacon, lettuce and tomato sandwich. Source: Lisa Burrows/Harvard University
The solid-state battery is assembled with a lithium metal anode, a graphite coating, electrolyte layers and a cathode. The proof of concept design was demonstrated to heal itself by backfilling the gaps created by any dendrites formed, and to retain 82% of its capacity after 10,000 cycles.
The research is published in Nature.