These treatments remove enveloped viruses from water supplies
S. Himmelstein | February 03, 2021
Wastewater monitoring and treatment offers opportunity for tracking and stemming the spread of COVID-19. The presence of enveloped viruses in raw sewage has been detected, but the fate of these pathogens during the wastewater treatment process is not fully understood. The potential of coagulation and electrocoagulation processes to remove and inactivate enveloped viruses, including SARS-CoV-2, was tested by researchers from Texas A&M University and U.S. Centers for Disease Control and Prevention.
The fate of an RNA virus selected as a model for the coronavirus agent was monitored during ferrous chloride coagulation and iron-electrocoagulation treatment. The hydrophobic viral envelopes adhered to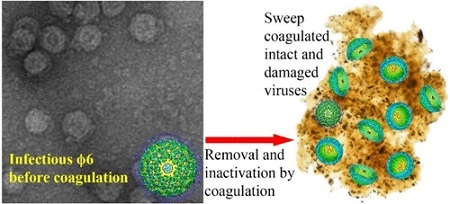 An enveloped virus (left), clumps together and becomes damaged by conventional iron coagulation (right). Source: Kyungho Kim et al.the precipitates formed in both treatment systems, allowing the enveloped virus to be easily removed as the solids settled.
[See also: Testing techniques for tracking coronavirus in untreated wastewater.]
Conventional coagulation reduced the amount of active virus in the water by more than 100,000 times in 2.6 minutes. Electrocoagulation was slower but was observed to be 10 times more effective than conventional iron-based coagulation. Viral envelope damage resulting from adhesion to iron hydroxide precipitates improved pathogen inactivation in both treatment systems.
The research published in Environmental Science and Technology suggests that these methods are effective in reducing viral loads in water supplies, and should be applied with filtration and disinfection steps to further improve viral inactivation.