Membrane traps viruses from air and water
S. Himmelstein | June 07, 2021
The novel coronavirus responsible for COVID-19 and other viral agents can spread as air droplets as well as in water. A membrane capable of filtering and inactivating a variety of viruses in either medium has been engineered by an international research team.
The environmentally friendly membrane is synthesized with denatured whey proteins that assemble into minute filaments called amyloid fibrils. The fibril scaffold is combined with nanoparticles of iron hydroxide to form an effective trap for viruses present in water. The positively charged iron oxide electrostatically attracts the negatively charged viruses and inactivates them.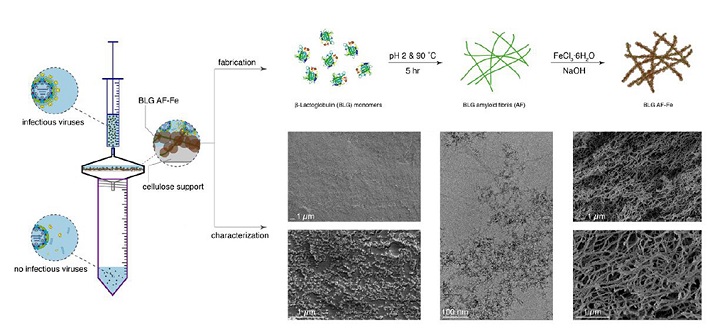 Schematic showing fabrication and application of the filter membrane. Source: Raffaele Mezzenga et al.
The membrane eliminates diverse water-borne viruses, including nonenveloped adenoviruses, retroviruses and enteroviruses. Tests also demonstrated elimination of H1N1 flu viruses and even the new SARS-CoV-2 virus from water with great efficiency. In filtered samples, the concentration of the two viruses was below the detection limit, which is equivalent to almost complete elimination of these pathogens.
In addition to applications in wastewater and drinking water treatment facilities, the membrane can also be deployed in air filtration systems or in masks. Constructed with biodegradable materials, the antiviral filtration device can be composted at the end of its service life.
Scientists from ETH Zurich (Switzerland), University of Geneva, École Polytechnique Fédérale de Lausanne (Switzerland), University of Cagliari (Italy) and University of Zurich contributed to this research, which is published in Nature Nanotechnology.