An electrocoagulation approach to voiding viruses during water treatment
S. Himmelstein | November 10, 2021
Purification of drinking water typically involves coagulation, sedimentation, filtration and disinfection. Conventional coagulation methods use chemicals to trigger the clumping of particles and microbes for subsequent removal. An alternative to the use of chemicals for this treatment phase has been developed by researchers from the U.S. Centers for Disease Control and Prevention and Texas A&M University.
To demonstrate the novel electricity-based coagulation approach inserted iron electrodes were inserted in a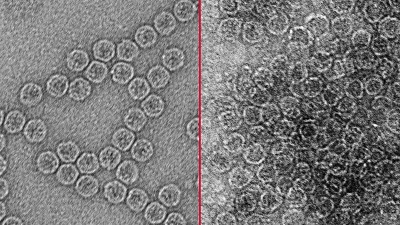 Transmission electron micrographs of MS2 bacteriophage before electrocoagulation (left) and after (right). Source: Shankar Chellam and Anindito Sen/Texas A&M Universitysample of untreated water laden with MS2 bacteriophage as a surrogate of a nonenveloped virus. The anode oxidized as electrical currents were administered, releasing iron ions into the solution. These ions combine with dissolved oxygen to produce hydroxyl radicals and iron-rich precipitates to which the viruses adhere, forming larger aggregates for easy removal.
The research published in Environmental Science & Technology reports the damage in electrocoagulated viruses ranged from 10% to greater than 60%, suggesting that coagulation and disinfection may be combined in a single treatment step. In comparison, bacteriophages isolated from conventional coagulation were not inactivated.