Hydropower-to-hydrogen plant planned in Canada
S. Himmelstein | February 01, 2021
Hydro-Quebec has awarded an engineering contract to the Green Hydrogen product division of thyssenkrupp Uhde Chlorine Engineers to install an 88 MW water electrolysis plant to produce hydrogen.
The facility will be sited near Montreal and is scheduled to be operational by late 2023. Hydroelectric energy will be harnessed to power a giant electrolyzer constructed to convert water into 11,100 metric tons of green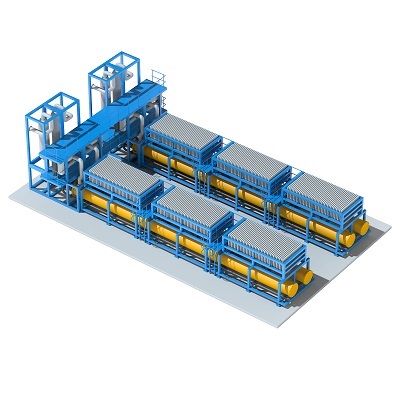 Hydroelectric energy will power an 88 MW water electrolysis plant to produce hydrogen. Source: thyssenkrupp Uhde Chlorine Engineershydrogen and 88,000 metric tons of oxygen per year. This output will be used to produce biofuels from non-recyclable waste for the transportation sector. The biofuel facility operated by Enerkem will convert 200,000 tons of waste into 33 million gallons of biofuel, primarily ethanol.
The Enerkem process feeds shredded municipal waste to a proprietary bubbling fluidized bed gasification vessel to thermally crack the waste, breaking it down into its constituent molecules. Steam processing then yields a syngas rich in hydrogen and carbon monoxide, the key building block molecules used to manufacture value-added chemicals and fuels.