Canadian Waste-to-Cellulosic Ethanol Plant to Sell Fuel in U.S.
S. Himmelstein | November 07, 2017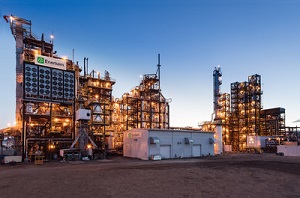 This is the first waste-to-biofuel facility to sell its ethanol under the U.S. Renewable Fuel Standard after receiving registration approval from the U.S. Environmental Protection Agency in 2017. Source: Enerkem
Biofuel produced at Enerkem's municipal waste-to-cellulosic ethanol plant in Edmonton, Alberta, Canada, has been granted U.S. Environmental Protection Agency (EPA) approval for sale in the U.S. under the U.S. Renewable Fuels Standard (RFS). About 16 billion gallons of cellulosic biofuels are to be blended in the conventional transportation fuel pool by 2022 under the 2007 Energy Independence and Security Act.
"With this EPA approval, we are now able to sell one of the lowest-carbon transportation fuels into the world's largest biofuels market," says Vincent Chornet, President and Chief Executive Officer of Enerkem. "This provides further validation of Enerkem's leading position in the global race to decarbonizing the transportation fuel sector, which is a major source of greenhouse gas emissions."
The company is now registered for D3 renewable identification numbers (RINs) credits, which are purchased by U.S. refiners to comply with the RFS program. EPA has established that cellulosic biofuels reduce greenhouse gas emissions by at least 60 percent when compared to gasoline.
The Edmonton biofuel facility was expanded earlier in 2017 to produce some 13 million gallons of cellulosic ethanol annually following the commissioning of Enerkem's methanol-to-ethanol conversion unit. By taking the City of Edmonton's household waste that is non-recyclable and non-compostable, the Enerkem Alberta Biofuels facility is helping the city to reduce the volume of waste sent to landfills by over 100,000 metric tons per year.