Expanded ASCEND high density platform adds conversion and tap cassettes
Engineering360 News Desk | January 25, 2021
AFL, an international manufacturer of fiber optic cable, connectivity and equipment, is expanding its ASCEND modular platform, adding conversion and tap cassettes to its high-density solution. The ASCEND high density solution meets the growing demand for bandwidth and features fiber housings, high-density optical cassettes, custom trunk cable assemblies and field reversible patch cords.
AFL's conversion cassettes provide an effective solution to transition from one BASE platform to another.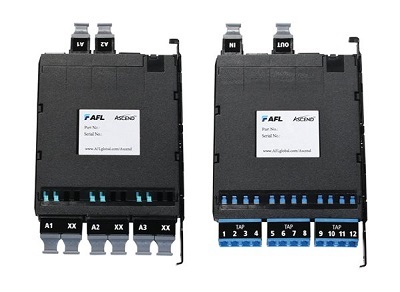 Source: AFLThe cassettes fully utilize each fiber in a BASE-12 or BASE-24 array by breaking out the MTP adapters at the rear of the cassette into a corresponding number of BASE-8 adapters at the front. This quickly allows users to utilize various BASE platforms, even with the same housing, if required, maximizing ports while minimizing rack space.

The tap cassettes enable access points for monitoring live traffic signals. High demands placed on modern fiber optic networks require effective monitoring to maintain optimal performance and troubleshoot system security or other signal issues. This new cassette is available with a variety of options to accommodate different split ratios for tap/pass through signals and input/output configurations, making it simple to tap and route signals of any application in networks.

Conversion and tap cassettes join fanout, splice and patch cassettes originally introduced in the platform.