Cold Ironing Comes to the Port of Montreal
David Wagman | August 11, 2017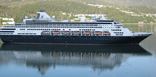 MS Veendam
The Montreal Port Authority (MPA) says that its shore power project has been completed and that vessels docking at the port's new cruise terminal can now be powered by electricity.
The C$11 million ($8.67 million) project is expected to reduce greenhouse gas (GHG) emissions by 2,800 tonnes per year.
Shore power can be an effective way to reduce air emissions from marine diesel engines by enabling ships to turn off their engines and connect to the power grid for the power they need while they are docked.
(Read "Cold Ironing: The Drive to Make Commercial Shipping Cleaner.")
The project was rolled out in two phases. The first was shore power for wintering vessels and the second for cruise ships. In 2016, the MPA developed four power supply stations at berths 25, 27, 29 and M2 for vessels that winter at the Port.
As part of the rehabilitation of Alexandra Pier and the cruise terminal, the MPA had the necessary equipment installed to provide shore power for cruise ships, working with its technical partners. To provide a sufficiently powerful power supply for cruise ships, Hydro-Québec installed a new 25 kV line to supply the new substation installed at the cruise terminal in 2016.
Schneider Electric designed and built the equipment needed to install the electrical substation. Carried out in 2016 and 2017, the first connection was made in late July to Holland America Line's cruise ship, the MS Veendam.
A Winning Partnership for Greener Port Operations
Out of the total project cost of C$11 million, the government of Canada contributed up to C$5 million under its Shore Power Technology for Ports Program. The government of Quebec contributed C$3 million under its program to improve marine, air and rail transportation efficiency to reduce GHG emissions. The MPA contributed C$3 million to the project.
The Port of Montreal is the second largest port in Canada and a diversified transshipment center that handles all types of goods: containerized and non-containerized cargo, liquid bulk and dry bulk. It is a leading container port served by some of the largest container shipping lines in the world.