Video: New approach to 3D printing microfluidic channels
S. Himmelstein | October 12, 2020
An extrusion-based 3D printing technique was developed by researchers from the University of Minnesota and the U.S. Army Combat Capabilities Development Command Soldier Center (Natick, Massachusetts) to directly align and print microfluidic structures onto planar and curved surfaces. The technique holds promise for synthesizing fluid channels at the micron scale for automated production of medical diagnostic and sensor systems.
Microfluidic devices are currently produced in cleanroom environments using complex photolithographic methods. The new approach 3D prints microfluidic channels in a single step using a custom-built 3D printer and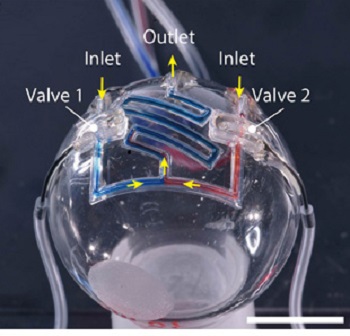 3D printed spherical converging and serpentine microfluidic channels with integrated valves. Source: Ruitao Su et al. extruded viscoelastic inks to directly produce 300 μm-diameter structures on a surface in an open lab environment. Fluid flow through the channels is controlled, pumped and re-directed using a series of valves.
The capacity to print microfluidic channels outside of a cleanroom setting could provide for robotic-based automation and portability in producing these devices. In addition to printing microfluidics directly onto a curved surface, the researchers integrated them with electronic sensors for lab-on-a-chip sensing capabilities. Encapsulating the microfluidic channels with ultraviolet-curable resins imparted sufficient mechanical strength to enable automation components including microfluidic valves and pumps.
The researchers hope that the methodology described in Science Advances can be extended to freeform surfaces such as human skin for directly 3D printed physiological sensors.