Purdue researchers create a water-repelling process for improving medical and electronic devices
Marie Donlon | August 22, 2019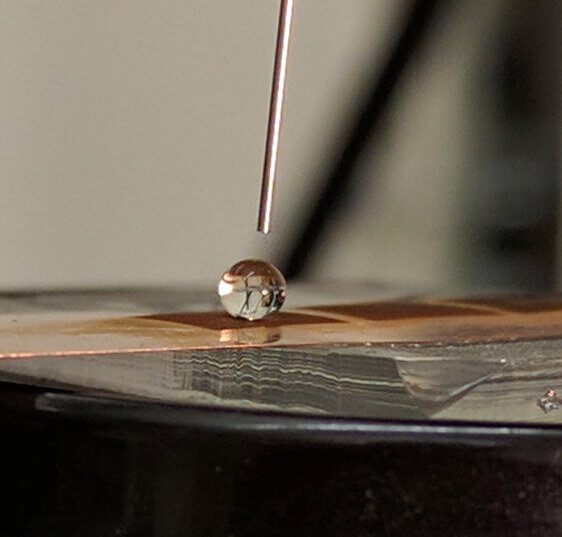 This image shows a water drop on a created superhydrophobic surface, showing a very high contact angle. Purdue University researchers developed a new manufacturing process for creating internal hydrophobic surfaces for microchannels. Source: Purdue UniversityResearchers from Purdue University have made strides with a manufacturing process for developing tiny channels for repelling water, thereby improving electronic, medical and other devices.
The technology, according to Purdue researchers, enables the creation of super-hydrophobic, or non-water-resistant, non-flat surfaces on polymer and metallic materials, according to Yung Shin, a professor in Purdue's College of Engineering. Currently, there are no such methods for producing internal hydrophobic surfaces for microchannels inexpensively.
The Purdue technique reportedly develops tiny channels where water is not able to adhere to the surface or offers little resistance in the flow. As such, water and other liquids travel through and produce smaller cooling channels and microfluidic devices. The process includes two steps for creating super-hydrophobic surfaces. Researchers initially create features or patterns on a metal surface using an ultra-fast laser. Following that, researchers mimic the pattern on the polymer in a process called transfer molding.
"The technology has many potential effective cooling options than conventional methods and helps reduce the overall size of biosensors and other medical devices that use circulating fluid to detect unhealthy conditions in a patient," explained Shin.
In addition to improving medical and electronic devices, Shin believes that the technology and manufacturing process could also be applied to self-cleaning surfaces, windshields and airplane microhydraulics.