Kiel University accelerates chronic wound healing with 3D-printed patch
Marie Donlon | September 14, 2021
Researchers from Germany's Kiel University have developed a light-activated 3D-printed wound healing patch that is customizable to patients.
The 3D-printed wound healing patch is composed of a medical hydrogel featuring antibacterial zinc oxide nanoparticles and specialized proteins that are activated and controlled via irradiation.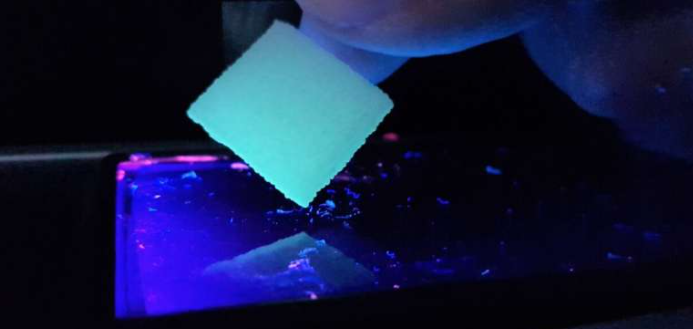 Source: Kiel University
According to its developers, the patch is designed to treat chronic wounds — brought about by diabetes, bed sores and circulatory disorders, for instance — that don't heal. Once applied and exposed to green light, the patch supplies both oxygen and moisture to the wound, which stimulates the creation of new blood vessels and thus the creation of new tissue.
The Kiel University team hopes that clinics could potentially 3D print their own patches in various shapes and featuring various concentrations of the zinc oxide nanoparticles, according to the needs of individual patients.
"By controlling the effects of the patch with light, we can adapt the course and dosage of the treatment to the individual needs of patients," said Rainer Adelung, Professor of Functional Nanomaterials at the Institute for Materials Science at Kiel University.
The study, Light-Controlled Growth Factors Release on Tetrapodal ZnO-Incorporated 3D-Printed Hydrogels for Developing Smart Wound Scaffold, appears in the journal Advanced Functional Materials.