EIA tracks US power plant conversion efficiencies
S. Himmelstein | July 28, 2020
Some input energy is lost during the electricity generation process, and new data from the U.S. Energy Information Administration (EIA) quantifies and confirms this loss. More than 60% of the energy consumed by U.S. utility-scale power generation facilities in 2019 was lost during conversion to electricity, as evidenced by the consumption of 38 quads of energy to yield 14 quads of electricity.
Natural gas accounted for about 35% of generation capacity in 2019, when gas-fired power plants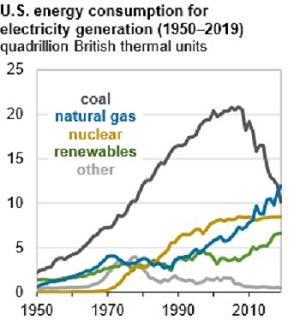 About 38 quads of energy were consumed by utility-scale power plants to yield 14 quads of electricity in 2019. Source: EIAconsumed about 11.9 quads to convert 45% (or 5.4 quads) into net electricity generation. Coal-fired power facilities are typically older and less efficient than gas-fired systems and consumed 10.2 quads to convert 32%, or 3.3 quads, into net generation. Producing 1 kWh of electricity from coal requires about one-third more energy than from natural gas.
U.S. nuclear power plants consumed about 8.5 quads in 2019 to produce nearly three quads, posting an efficiency rate of about 33%. Renewable energy resources combined consumed about 6.6 quads of energy to produce 2.5 quads for a 38% rate of conversion to electricity.
Of the 13.3 quads of electricity consumed in the U.S. during 2019, 96% was delivered as retail sales to the residential, commercial, industrial and transportation sectors. The remaining 4% was used directly by commercial and industrial facilities.