Team develops 'catch and kill' air filter
Marie Donlon | July 08, 2020
A team from the University of Houston has developed a so-called "catch and kill" air filter that is capable of trapping and instantly killing SARS-CoV2 — the virus responsible for COVID-19.
Recognizing that the virus cannot survive temperatures above 70° C, the researchers heated porous nickel foam commonly used in air filters to 200° C. During testing, the heated filter reportedly killed 99.8% of SARS CoV2 following just one pass through the filter.
To develop the air filter, researchers folded the nickel foam and connected its different compartments to electrical wires, thereby increasing the material's resistance in a bid to also raise its temperature to as much as 250° C. This enabled the air filter to electrically heat itself versus obtaining heat from an outside source, thereby reducing the amount of heat escape from the filter and, consequently, enabling the connected air conditioning system to operate with minimal resistance.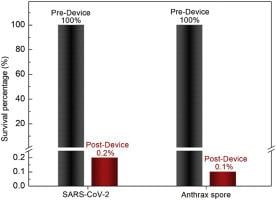 Performance of prototype device on aerosolized SARS-CoV-2 and Bacillus anthracis. Source:University of Houston
The filter, which also killed 99.9% of anthrax spores during testing, is intended for use in high-risk settings such as airports, airplanes, offices, schools and cruise ships, for instance, and reportedly satisfies the mandates of conventional heating, ventilation and air conditioning (HVAC) systems.
Additionally, the University of Houston team is developing desktop versions of the air filter to clean the air in the immediate vicinity of an office worker's desk.
The air filter is detailed in the journal Materials Today Physics.