Water-absorbing polymer keeps solar panels cool
S. Himmelstein | May 15, 2020
Keeping solar cells cool is key to improving energy conversion efficiency, which declines as a photovoltaic panel heats up under solar illumination. A novel heat dissipation strategy devised at King Abdullah University of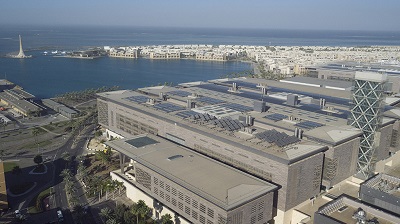 Ariel view of KAUST campus showing solar cells on top of some of the buildings. Source: KAUSTScience and Technology (KAUST), Saudi Arabia, uses a sorption-based atmospheric water harvester as an effective cooling component.
A calcium chloride-based polymer gel applied to the underside of a solar panel serves as a desiccant, expanding as the calcium salts absorb water from humid air. The water is released by heat-absorbing carbon nanotubes embedded in the polymer framework. The amount of water released increases as daytime temperatures rise, effectively cooling solar panels without the need for an external energy supply.
The atmospheric water harvester photovoltaic cooling system was demonstrated to provide an average cooling power of 295 W/m2 and to lower the temperature of a photovoltaic panel by at least 10° C under 1.0 kW/m2 solar irradiation in laboratory conditions. The system delivered a 13% to 19% increase in electricity generation in a commercial photovoltaic panel in outdoor field tests conducted in the winter and summer in Saudi Arabia.