Vibration-damping technology for machining
Engineering360 News Desk | April 27, 2020
With Accure·tec, Walter provides a damping system specially for turning and milling using tools with a long projection length. The vibration damping provided by the axially and radially flexibly positioned damper element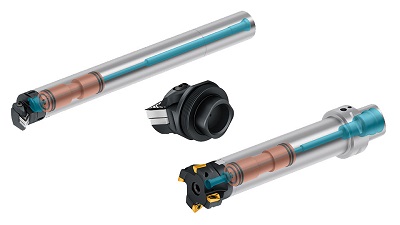 Source: Walteris preset at the factory so that the tools can be used immediately without any time spent on adjustment.
Turning operations up to 10 x D can be manufactured with high process reliability and with very good surface finish quality using the A3000 boring bars. Examples include H7 engineering tolerances and the counterboring of generator shafts to Rz 6.3. The equally new QuadFit quick-change heads enable rapid tool changes and increase repeat accuracy (±2 µm). When milling, Accure·tec AC001 adaptors up to 5 x D can be used with cutting data up to three times higher than conventional tools.
Accure·tec AC001 adaptors are ideally suited to the Walter milling cutter range. This applies in particular to high-feed milling cutters, which have their main cutting force in the direction of the spindle. This means that the system is highly versatile for applications in aircraft construction, mechanical engineering and the automotive industry. With turning applications, the focus is on the energy sector (valves for the oil industry) or on the aerospace industry (landing gear).
Users benefit from good vibration damping and a system with low noise levels. Accure·tec promises longer tool life, productivity and process reliability and protects tools and machine spindles — despite higher cutting data. Walter offers Accure·tec AC001 (milling) and A3000 (turning) with all popular machine interfaces: Walter Capto, HSK/HSK-T, SK, MAS-BT and parallel shank.