Smart Windows to Block Light and Heat
Marie Donlon | August 08, 2017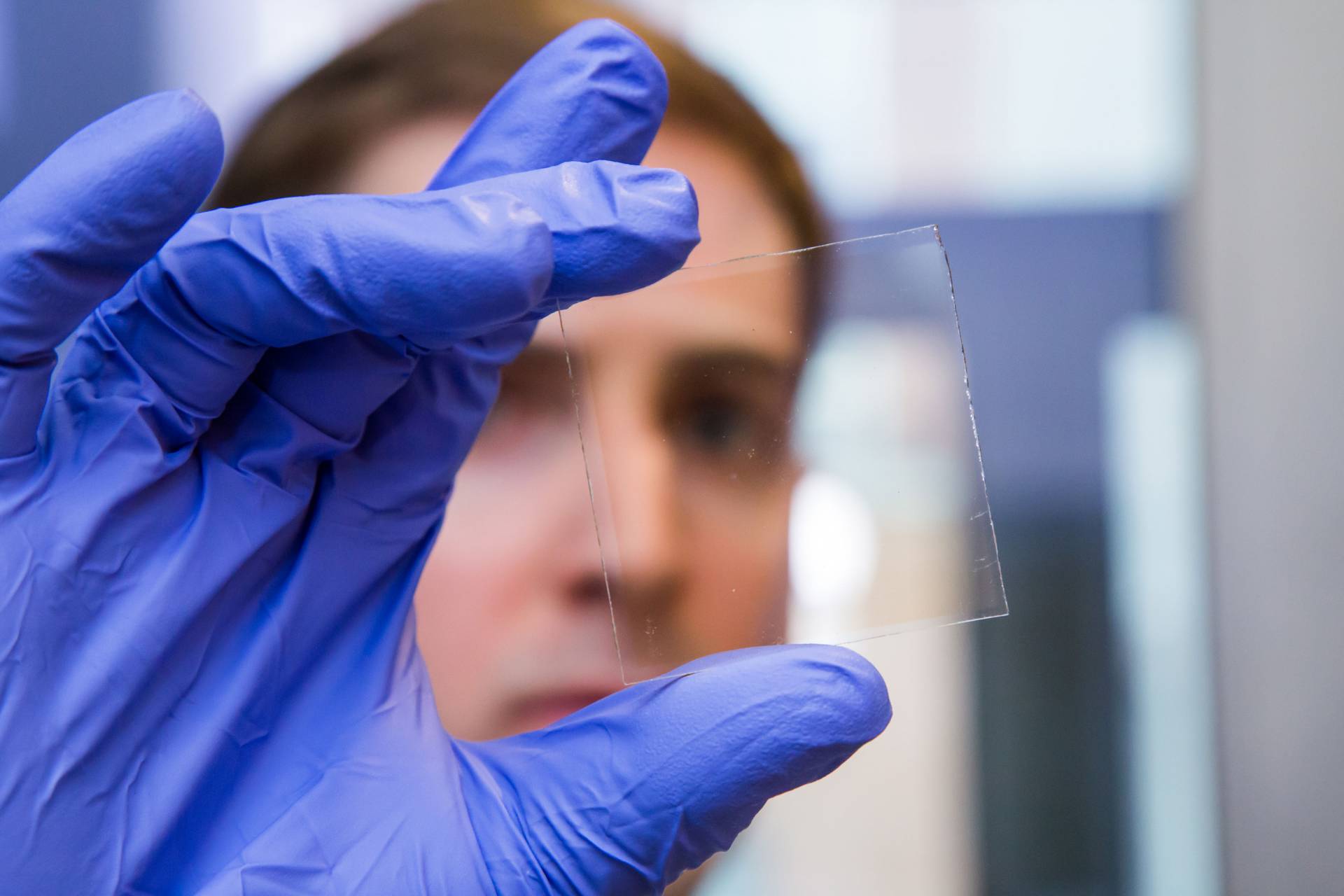 Graduate student Nicholas Davy holds a sample of the special window glass, which harvests one portion of the light spectrum to control other parts of the spectrum. Specifically, it uses near-ultraviolet light to generate electricity, which powers chemical reactions that lighten or darken the glass as needed. When darkened, the window can block more than 80 percent of light. Image credit: David Kelly CrowResearchers from Princeton University have developed a smart window system that will change its tint to block unwanted light or heat.
"Sunlight is a mixture of electromagnetic radiation made up of near-UV rays, visible light, and infrared energy, or heat," said Yueh-Lin (Lynn) Loo, director of the Andlinger Center for Energy and the Environment, and the Theodora D. '78 and William H. Walton III '74 Professor in Engineering. "We wanted the smart window to dynamically control the amount of natural light and heat that can come inside, saving on energy cost and making the space more comfortable."
Using a transparent solar cell to harvest UV energy from the sun, the self-powered windows, made from electrochromic materials, change from clear to dark blue in the presence of small electric currents.
The system, which is housed on thin transparent film that can adhere to panes of traditional glass, can block up to 80 percent of visible light when opaque.
"Using near-UV light to power these windows means that the solar cells can be transparent and occupy the same footprint of the window without competing for the same spectral range or imposing aesthetic and design constraints," Loo added. "Typical solar cells made of silicon are black because they absorb all visible light and some infrared heat—so those would be unsuitable for this application."
Researchers have reported their findings in the journal Nature Energy.