Circor RTK introduces control valves for abrasive media applications
Engineering360 News Desk | April 06, 2020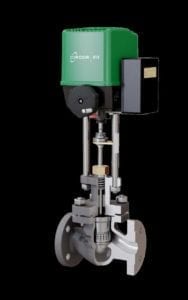 Source: Circor RTKCircor RTK has introduced its Reflex quick-change seat (QCS) control valve. The Reflex quick-change seat (QCS) control valve is equipped with the React 30 DC-PoP smart actuator and is a flexible all-in-one solution for noise reduction and high pressure-drop applications.
The Reflex QCS control valve assembles and disassembles in four steps without requiring special tools, thereby accelerating maintenance by as much as 85% for efficiency and cost savings. Additionally, the tool-free seat exchange enables quick adaptation to changing conditions. Likewise, the valve features optimized high-capacity flow paths and interchangeable trim. The two-way Reflex QCS control valve also supports assorted media and meets NACE standards for use with abrasive liquids and gases.
According to RTK, the valves are highly customizable for lower flow and higher pressure drop and are available in one- or two-stages, as well as in various sizes, pressure classes and end connections types.
For more information, visit Circor RTK's website.