Researchers turning fish scales into flexible electronics
Marie Donlon | March 18, 2020
Researchers from Nanjing Tech University in China are using fish scales as an alternative to the plastic components in flexible displays, wearables and flexible electronics.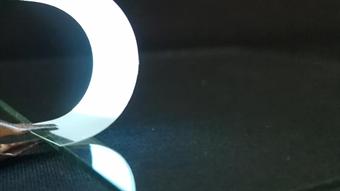 This film derived from fish scales could someday be used in flexible electronic devices. Source: ACS NanoTo create an alternative to the plastic derived from fossil fuels where electricity-conducting and light-emitting components are layered within electronic devices, the team developed a gelatin using collagen sourced from fish scales. The gelatin solution was poured into a petri dish and dried, transforming into a film flexible and transparent enough for wearable devices.
To demonstrate how the film works, the team constructed an alternating current electroluminescent device that would glow even after repeatedly bent and relaxed — about 1,000 times.
Once the device has reached the end of its life, the material biodegrades. When introduced to hot water, the film dissolves in under three minutes. Buried beneath soil, the film will biodegrade in roughly 24 days, according to researchers.
The study appears in the journal ACS Nano.