Use your computer to help combat COVID-19
S. Himmelstein | March 13, 2020
Help combat the threat of COVID-19 by donating some unused computational power to the Folding@home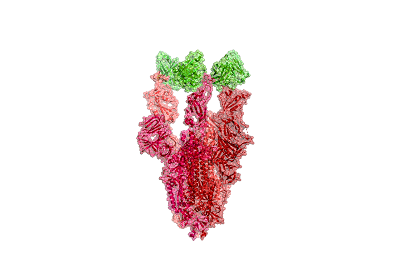 Structures of the closely related SARS-CoV spike protein bound by therapeutic antibodies may help rapidly design better therapies. The three monomers of the SARS-CoV spike protein are shown in different shades of red; the antibody is depicted in green. Source: Folding@homeConsortium, a distributed computing project for disease research that simulates protein folding, computational drug design, and other types of molecular dynamics. The initiative is now using the idle resources of personal computers owned by volunteers worldwide to help design drugs, therapies and vaccines for COVID-19 and other diseases.
The researchers must analyze the shape of the coronavirus viral spike protein and the ways the protein wiggles and folds into alternative shapes in order to best understand how it interacts with the human ACE2 receptor, so that an antibody can be designed. The goal is to model the structure of the 2019-nCoV spike protein and identify sites that can be targeted by a therapeutic antibody, and additional computing power is needed to build the required models.
Download the software needed to participate; the program runs in the background and will not interfere with any of the computer owner's activities.
The group has made progress in simulating potentially druggable protein targets from SARS-CoV-2 (the virus that causes COVID-19) and the related SARS-CoV virus. All input files are being made available on GitHub for the use of other researchers.