Gel-Spun Carbon Fiber Yields High-Strength Material
Engineering360 News Desk | August 12, 2015
Researchers from the Georgia Institute of Technology have developed a way to make carbon fiber-reinforced polymers that are stronger than conventional carbon-fiber technology.
This approach is based on a technique for spinning polyacrylonitrile (PAN), an organic polymer resin used to make carbon fibers.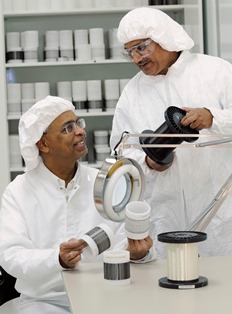 Professor Satish Kumar research engineer M.G. Kamath examine the precursor and carbon fibers processed at Georgia Tech. (Image Credit: Gary Meek, Georgia Tech)"By using a gel-spinning technique to process PAN copolymer into carbon fibers, we have developed next-generation carbon fibers that exhibit a combination of strength and modulus not seen previously with the conventional solution-spun method," says Satish Kumar, a professor in the School of Materials Science and Engineering.
The gel-spun carbon fiber produced by Kumar's team was tested at 5.5 to 5.8 gigapascals (GPa)—a measure of ultimate tensile strength—and had a tensile modulus in the 354-375 GPa range.
"This is the highest combination of strength and modulus for any continuous fiber reported to-date," he says. "And at short gauge length, fiber tensile strength was measured as high as 12.1 GPa, which is the highest tensile-strength value ever reported for a PAN-based carbon fiber."
The material was produced on a continuous carbonization line. The line was built as part of a four-year, $9.8 million project sponsored by the Defense Advanced Research Projects Agency (DARPA) to improve the strength of carbon-fiber materials.
Related link:
Georgia Institute of Technology
Related articles:
Carbon Fiber Faces Long Road to Adoption in Automotive, Energy Industries