Watch: Lower cost, stronger carbon fibers fabricated with graphene
S. Himmelstein | May 20, 2020
High tensile strength, low density and other desired mechanical properties make carbon fibers the reinforcing material of choice for lightweight composite applications in aerospace, military and other sectors. Carbon fibers would be ideal for lightweighting automotive components to realize fuel efficiency and emission control benefits, but high cost has precluded such use. A new method for reducing carbon fiber production costs could open up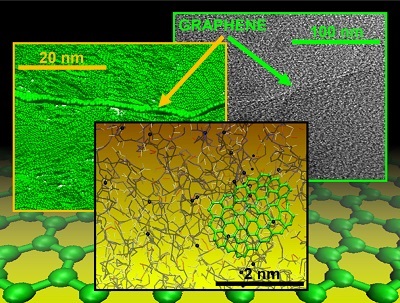 Adding graphene during the production process strengthens carbon fiber and could lead to the development of lower-cost materials for diverse applications. Source: Margaret Kowalik and Adri van Duin/Pennsylvania State Universitybroader opportunities for its deployment.
The expense incurred during carbon fiber manufacture is associated with the use of polyacrylonitrile (PAN), which requires heating at extreme temperatures to imbue the final material with the desired strength and stiffness. Researchers from the University of Virginia, Pennsylvania State University and U.S. Oak Ridge National Laboratory have demonstrated that the addition of small amounts of graphene – only 0.075% concentration by weight – at the start of materials processing yields a carbon fiber with 225% greater strength and 184% greater stiffness than conventionally made PAN-based carbon fibers.
The flat structure of graphene helps to align PAN molecules consistently throughout the fiber, during the production process. As reported in Science Advances, the addition of graphene was observed to introduce favorable edge chemistry, promote carbon content, enhance polymer chain alignment and increase crystallinity.
The researchers will continue exploring the use of graphene in this production process with lower cost precursors with the goal of reducing manufacturing steps and attendant costs.