Small drone turbulence reduced with bioinspired wing design
S. Himmelstein | February 04, 2020
Sensitivity to atmospheric turbulence, which results in poor aerodynamic and propulsive efficiency, undermines the utility of small fixed-wing drones. A structural solution in the form of a new wing design has been engineered by researchers from Brown University and École Polytechnique Fédérale de Lausanne, Switzerland.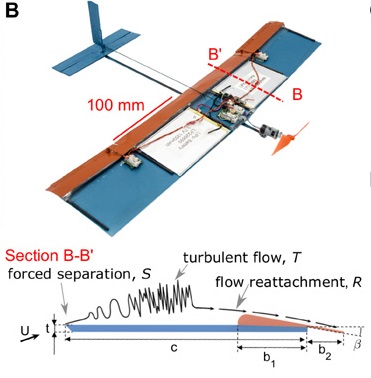 The miniature drone demonstrator and a section of the bioinspired separated flow airfoil. Source: M. Di Luca et al.The smooth contour observed on the leading edges of most airplane wings is replaced with a thick flat plate and a sharp leading edge. The design inspired by the flight of insects and small birds offers aerodynamic advantages at the scale of small drones. The revised wing is more stable than standard structures when subjected to sudden wind gusts and other types of turbulence, and it provides an aerodynamically efficient flight that translates into better battery life and longer flight times.
The separated flow airfoil functions in the same manner as the rough leading edge of bird and insect wings. The wing is designed to separate the flow at the leading edge, causing the flow to reattach more consistently before reaching the trailing edge. A small rounded flap placed near the wing's trailing edge effects the reattachment in a design enabling more efficient, and stable flight at the scale of aircraft with wingspans of about a foot or less.
Wind tunnel tests confirmed that the separated flow airfoil effectively smoothed out lift fluctuations associated with freestream turbulence. Evaluation of a small propeller-driven drone fitted with the new wing showed that increased aerodynamic efficiency reduced minimum cruise power compared to standard miniature drones for just under three hours of flight time. Use of the airfoil described in Science Robotics should result in extended battery life and longer duration flights.
Its use can also lead to fabrication of thicker, structurally stronger wings that incorporate the batteries and eliminate the need for a drag-inducing fuselage.