Solution blending pumps for fracking operations
Shawn Martin | January 13, 2020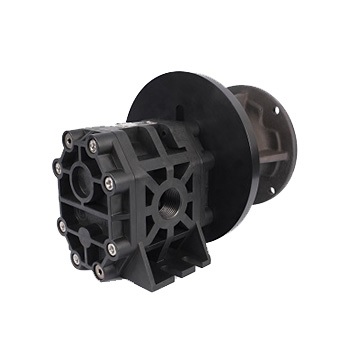 Chemsteel non-metallic gear pump, S946 NM. Source: Gardner Denver, IncorporatedOberdorfer, a division of Gardner Denver, produces pumping solutions that are designed to handle the rigors of the petrochemical field. Their products encompass a range of gear pumps and centrifugal pumps specifically designed for solution blending, crude oil transfer, oil scavenger, oil line water heating or chlorine dioxide applications.
Oberdorfer's Chemsteel solution blending pumps feature a close-coupled adapter that links the helical gear pump to the shaft of an electric motor. The flexible coupling supports direct drive applications. The pump itself is offered in several materials and with several different bearing configurations to accommodate a wide range of common and highly corrosive liquids that must be pumped under pressure.
The Chemsteel pump line is manufactured to extremely precise tolerances to prevent system contamination and maintain the integrity and purity of fluid media. They also support bi-directional operation and may be used in reverse flow applications.
Several models are available with either stainless steel, Alloy C or a non-metallic reinforced polyphenylenesulfide housing. Gears are also available in 316 stainless steel, Alloy C, polytetrafluoroethylene, polyphenylenesulfide and polyetheretherketone. The gear and bearing design allows for trimming of the unit to maximize flow and meet minimum turndown ratios or is otherwise matched to meet specific OEM flow requirements. For more details, visit the Oberdorfer website.