'Artificial leaf' sustainably produces syngas
Amy J. Born | October 28, 2019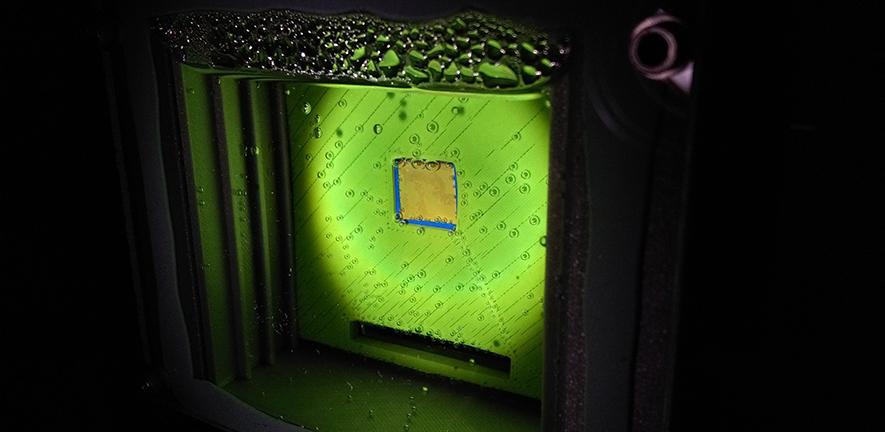 A widely used gas that is currently produced from fossil fuels can instead be made by an 'artificial leaf' that uses only sunlight, carbon dioxide and water, and which could eventually be used to develop a sustainable liquid fuel alternative to gasoline. Source: University of CambridgeSyngas, used to produce a number of commodities such as fuels, pharmaceuticals, plastics and fertilizers, is currently made from fossil fuels. However, researchers at the University of Cambridge have developed an "artificial leaf" that can produce syngas through sustainable means.
Inspired by photosynthesis, the researchers are using sunlight to power the leaf, rather than fossil fuels. The team claims that its device works efficiently on cloudy days and releases no additional carbon dioxide into the atmosphere. This sustainable method of producing syngas could, therefore, "be a critical step in closing the global carbon cycle and establishing a sustainable chemical and fuel industry," said senior author Erwin Reisner from Cambridge's department of chemistry.
Two light absorbers on the artificial leaf combined with a catalyst made from naturally abundant cobalt act similarly to a living plant's molecules that harvest sunlight. The leaf forms the syngas mixture when it is immersed in water. One light absorber uses the cobalt to produce oxygen, while the other reduces carbon dioxide and water into carbon monoxide and hydrogen. Because the chemical reaction requires only a small amount of sunlight, the process will work "from dawn to dusk, anywhere in the world," according to Ph.D. student and first author, Virgil Andrei.
While other "artificial leaf" devices have successfully produced hydrogen, the Cambridge researchers credit the combination of materials and catalysts they used for the ability of their device to produce syngas sustainably, including state-of-the-art perovskite light absorbers rather than light absorbers made from silicon or dye-sensitized materials, and cobalt rather than platinum or silver.
"What we'd like to do next, instead of first making syngas and then converting it into liquid fuel, is to make the liquid fuel in one step from carbon dioxide and water," said Reisner. He sees this as a major step forward in the quest to fulfill the total global energy demand.
The research, conducted in the Christian Doppler Laboratory for Sustainable SynGas Chemistry in Cambridge's chemistry department, was co-funded by the Austrian government and the Austrian petrochemical company OMV. Additional funding came from the Winton Programme for the Physics of Sustainability, the Biotechnology and Biological Sciences Research Council and the Engineering and Physical Sciences Research Council.
The research results are reported in the journal Nature Materials.