Video: Sustainable fuel produced from ambient air and sunlight
S. Himmelstein | November 16, 2021
Researchers from the Institute for Advanced Sustainability Studies, Germany, and ETH Zurich, Switzerland, have demonstrated a process that produces carbon-neutral transportation fuels from sunlight and air. A rooftop-mounted solar mini-refinery synthesizes methanol, kerosene and other liquid fuels in a multi-stage thermochemical process.
Using concentrated solar radiation, a high-​temperature solar reactor splits carbon dioxide and water extracted directly from air and produces syngas, which is then processed into drop-in liquid hydrocarbon fuels that are compatible with existing infrastructures for fuel distribution, storage and utilization, and can contribute to sustainable aviation and shipping.
The mini-refinery includes a direct air capture unit based on an adsorption-​desorption cyclic process applied to an amine-​functionalized sorbent to concurrently extract carbon dioxide and water directly from ambient air, which are then fed to a solar redox unit. This refinery component supports thermochemical splitting of carbon dioxide and water via a reduction-​oxidation cyclic process using non-​stoichiometric ceria to generate syngas composed of carbon monoxide and hydrogen. Produced syngas is sent to a gas-to-liquid unit for processing into the desired liquid hydrocarbons.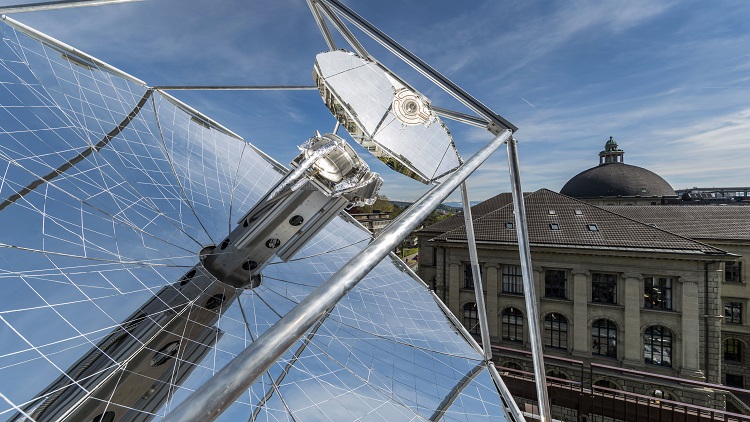 The mini-refinery converts water and carbon dioxide extracted from air into a syngas mixture, which is further processed into drop-in fuels such as kerosene. Source: ETH Zurich
The process detailed in Nature is driven by a solar reactor consisting of a cylindrical cavity-​receiver containing a reticulated porous structure made of ceria that is directly exposed to high-​flux solar irradiation. The researchers plan to scale up the 5 kW solar reactor to develop a 1 MW solar reactor module and to raise process efficiency by improving heating recovery between the redox steps of the thermochemical cycle.