Social robot teaches children how to wash their hands
Marie Donlon | October 15, 2019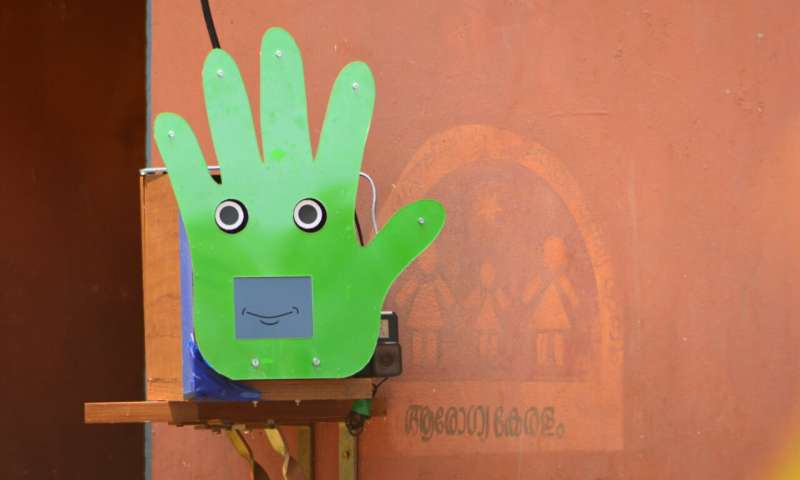 Source: The University of GlasgowIn recognition of Global Handwashing Day, which was Oct. 15, researchers from the University of Glasgow in Scotland and Amrita Vishwa Vidyapeetham University in India have developed a social robot to encourage handwashing among young children.
The robot, called Pepe, is mounted on a video screen that speaks directly to students to highlight the steps necessary to wash their hands. The robot is outfitted with eyes that move, imparting to the children that Pepe is listening to them and paying attention to how well they wash their hands.
Mounted and trialed at the Wayanad Government Primary School in Kerala, India, Pepe has reportedly improved handwashing rates at the school by roughly 40%. Similarly, students at the school reportedly spent twice as long washing their hands than they did before the introduction of Pepe, and about 95% of students correctly identified occasions when handwashing was necessary — for instance, following trips to the restroom and prior to meals — with greater regularity than before Pepe.
The social robot could prevent the spread of respiratory infections and diarrhea, which have been linked to roughly 1,300 fatalities among small children around the world, by teaching children to wash their hands, according to the research team.
Social robots are fast becoming a fixture in a number of settings, fulfilling roles as counselors, caregivers and even companions. Eventually, their roles will likely expand to a host of other occupations.
The researchers presented their findings at the IEEE International Conference on Robot and Human Interactive Communication held in New Delhi, India, on Oct. 15.