Detecting cancer with satellite technology
S. Himmelstein | October 02, 2019
Preoperative imaging and tissue biopsies are procedures commonly used to detect and delineate squamous cell carcinoma (SCC) in the head and neck. These methods are time-and cost-intensive, prompting researchers from Emory University and the University of Texas Dallas to test label-free hyperspectral imaging (HSI) for this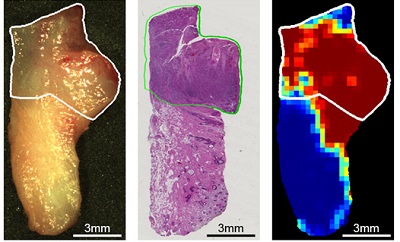 This composite image shows how noninvasive HSI (right) compares to a current microscope method (center) in identifying cancer cells. The original tissue sample is on the left. Source: University of Texas Dallasapplication.
The technology, better known for its use in satellite imagery and orbiting telescopes, was combined with artificial intelligence systems to analyze 293 tissue specimens from 102 cancer surgery patients. HSI outperformed conventional label-based diagnostic approaches in detecting SCC, demonstrating an 80% to 90% accuracy.
Cells are analyzed at micrometer resolution under ultraviolet and near-infrared wavelengths, and their reflection and absorption of light yields a spectral image in near real time, which can reduce the time and costs of surgical procedures.
The researchers plan to construct a database of electromagnetic spectra relevant for SCC diagnostics to further improve the accuracy and speed of the HSI system. A paper on the research is published in the journal Cancers.