New MRI method sheds light on cancerous tissue
S. Himmelstein | March 21, 2022
The progression of cancer can be tracked more accurately with new magnetic resonance imaging (MRI) technology developed by Canadian researchers. Cancerous tissue in images appears to light up in contrast to healthy tissue, making it easier to detect and monitor.
The synthetic correlated diffusion imaging (CDI) approach to MRI leverages a hybrid of native and synthetic diffusion signal acquisitions and signal calibration to distinguish between cancerous tissue and healthy tissue.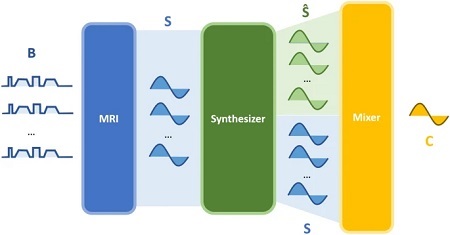 In the CDI system, multiple diffusion-weighted and native and synthetic signal acquisitions are to produce a final signal that characterizes the tissue being imaged with greater consistency in dynamic range across machines and protocols. Source: Alexander Wong et al. The technology was tested by application to a cohort of 200 patients with prostate cancer and demonstrated fewer false positives relative to the more commonly used diffusion-weighted imaging, transverse relaxation time-weighted imaging and dynamic contrast-enhanced MRI modalities.
The results published in Scientific Reports suggest that the use of CDI may have a clinical impact as a diagnostic aid for improving prostate cancer screening. The researchers from University of Toronto and University of Waterloo also plan to test the accuracy of CDI in detecting the presence of other forms of cancer such as breast cancer, gastric cancer and glioblastoma.