Exothermic welding applications
Gary Kardys | September 10, 2019
Sponsored Content
This article about exothermic welding applications is the successor to Engineering360's article "What is exothermic welding?"
Steel rail
Exothermic welding joins individual rails into continuous or seamless railroad tracks. Before joining steel rails, a welder must verify that the steel can be thermite welded based on railway track model. First, soil, sand or gravel below the ends of the track to be joined needs to be dug out and the crucible slid into the hole. The steel rails need to be prepared for welding by cleaning off any contamination and then grinding the end flat. The rail ends should be checked for proper fitup and alignment.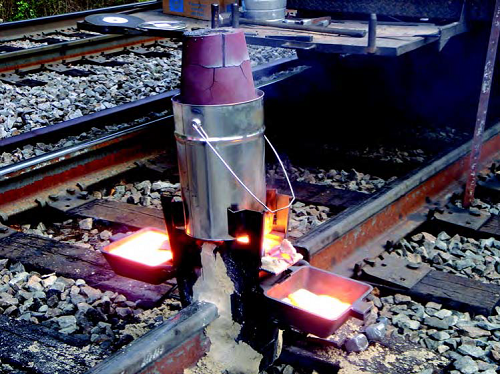 Figure 1: Thermite welding of rail with a single-use crucible. Source: AWS Welding Handbook
Next, a sand or refractor mold is placed around the steel rail joint and then preheated to 315° C. Finally, the thermite powders are poured in the mold and ignited, which converts the metal oxide into molten metal. The metal is poured into the mold and around and into the joint. The molten metal solidifies forming a solid joint. Five minutes later, the expendable sand mold and crucible are dismantled.
After 15 to 30 minutes, the excess weld metal in the riser or tap hole is taken off, and the side is ground flush with a cutting torch, cutoff wheel or grinding wheel. After another 30 to 45 minutes, any weld joint discontinuities are removed with cold grinding. Finally, the area around the site is cleaned up, the hole is filled in, the weld is inspected for quality and then the weld joint is marked.
The AWS and ANSI standard, Recommended Practices for the Welding of Rails and Related Rail Components for Use by Rail Vehicles AWS D15.2/D15.2M:2013, provide more information about the proper application of exothermic welding in railroad and rail track applications.
Cadwelding or exothermic copper welding
Copper oxide can be reduced with aluminum to exothermically weld copper, bronze and other copper alloys.
The cadwelding process is similar to the exothermic steel welding process, except that reusable graphite molds can be used. High conductivity in a material is dependent on high purity, and the exothermic welding process produces high-purity copper weld metal. Mechanical electrical joints have inherent contact resistance dependent on the conductivity of conductors and applied "contact" force. Copper exothermic welding is a useful technique in joining bus bars or conductors in electrical power distribution equipment, bonding stranded copper cables to grounding posts and conductor cables to pipelines and other structures for cathodic corrosion protection systems. Copper exothermic welding is also used in transit applications to weld conductors to mass transit rail tracks. The exothermic welds eliminate any contact resistance providing a superior, lower resistance electrical connection. Exothermic bronze welding is also useful in marine and field applications where structural and corrosion are more important than low electrical resistance.
Exothermic joining in the electronics industry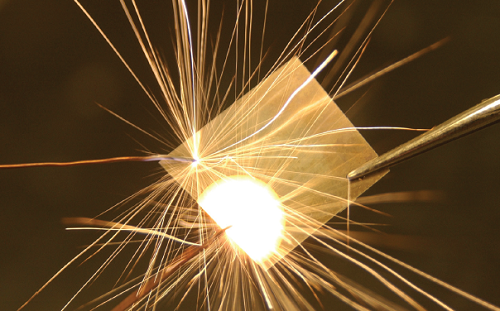 Figure 2: NanoFoil® from Indium Corporation is an example of a nickel-titanium material developed for exothermic soldering and brazing. Source: Indium Corp.Exothermic reactions are also employed to provide a heat source for soldering and brazing. Exothermic brazing (EXB) and exothermic soldering (EXS) are highly specialized processes where braze or solder filler metals are melted using exothermic reactions between two metals, a metal oxide and a metal or an inorganic nonmetal. Exothermic brazing and soldering has applications in microelectronic packaging, surface mount or electronics manufacturing, petrochemical equipment and aerospace components. Exothermic brazing and soldering is useful in bonding materials with differences in coefficient of thermal expansion (CTE) or CTE mismatches. The exothermic reaction provides an intense, short-lived heat source, which minimizes distortion and total heat input.
Exothermic brazing and soldering processes are simpler compared to exothermic welding. For instance, a bimetal nickel-titanium strip pre-coated with solder or braze filler alloy can be used. The exothermic soldering or brazing strip can be stamped or precut to the required shape of joint interface. The preformed strip is placed between the workpiece surfaces and then an external heat source is used to ignite or start the reaction.
Nickel-titanium requires an ignition temperature of 890° C. The heat of reaction melts braze or solder layer on the preform and heats the workpiece surfaces, which allows the filler alloy to wet the joint surfaces. NanoFoil from Indium Corporation is an example of a nickel-titanium material developed for exothermic soldering and brazing. Exothermic brazing and soldering eliminates the need for an oven, furnace, induction or resistance heat source. The intermetallic material becomes a non-functional part of the solder or braze joint.